Waterbury Hospital Donates Medical Supplies and Medicine to Puerto Rico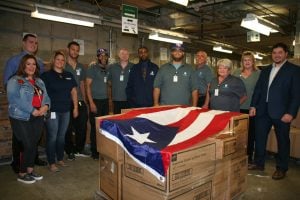 Waterbury Hospital is donating around 1,000 Lbs. of medical supplies and medicine to the Department of Health in Puerto Rico to help patients affected by Hurricane Maria.
The items packed in three large pallets are to be transported to the Island shortly Hospital officials are working closely with the Hispanic Coalition, the office of U. S. Senator Richard Blumenthal, Puerto Rico Rises, Connecticut and Dr. Cesar Sierra an ophthalmologist affiliated with the Yale New Haven Health System, to get the supplies shipped to the island.
"This donation will help so many people and they need everything," said Yarixa Lopez, an administrative assistant at the hospital who spearheaded the donation project.
The hospital is planning to hold other fundraisers to help with hurricane relief including a bracelet sales planned for next week to raise money.