Pennsylvania Department Of Human Services Recognized Milestone At Crozer-Keystone Opioid Recovery Program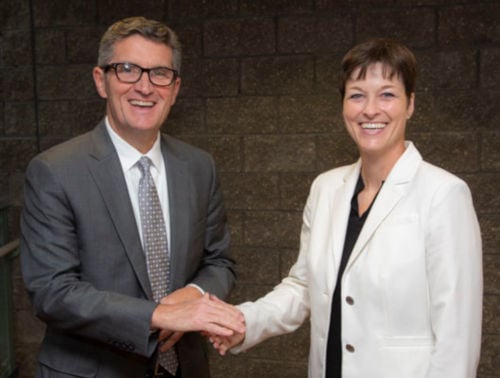 Pennsylvania Department of Human Services Secretary Teresa Miller today visited Crozer-Keystone Health System, a state-granted opioid recovery Center of Excellence (COE).
Miller discussed the importance of efforts by Governor Tom Wolf and his administration to ensure the continuity of, and access to, treatment to combat the state's opioid epidemic. The Crozer-Keystone COE is being lauded as one of the state's most successful sites.
"COEs have proven themselves to be a critical part of our efforts to improve opioid use disorder (OUD) treatment services, which is key in combatting this epidemic," Miller said. "Since opening its COE about 16 months ago, Crozer-Keystone has interacted with more than 1,000 clients, meaning there are more than 1,000 Pennsylvanians one step closer to recovery. This organization is a great example of how to establish effective community partnerships that bring people into treatment."
Crozer-Keystone's Opioid Treatment COE helps Delaware County residents suffering from OUD access the recovery treatment they need. Crozer-Keystone was one of the first 20 centers of its kind, created by grants from DHS.
The COE provides full-service care management for those struggling with OUD, removing the most common barriers to treatment. With a commitment to educating the community, the COE team works to ensure health care, education, and law enforcement organizations can identify those who need treatment and refer them to the center. All services are free of charge to Delaware County residents.
"We are seeing the effects of the opioid crisis throughout our community, and many struggle to find the help they need. Programs like our center of excellence are offering more opportunities to connect people to our experienced team of psychiatrists, licensed social workers and nurse practitioners," said Crozer-Keystone CEO Patrick Gavin. "As a leader in behavioral health and addiction treatment, it is our mission to get the right care to the right people, when and where they need it most."
Since 2016, the Wolf Administration has funded 45 COEs statewide to get more people into treatment and keep them engaged in treatment longer.
Successes through March of 2018 can be seen in the following numbers:
More than 19,000 individuals have interacted with a COE.
13,482 individuals have received a level-of-care assessment, which helps to determine the type, level, and length of treatment.
68 percent of individuals seen by a COE have been engaged in treatment (including residential, outpatient, and medication-assisted treatment).
"There is a significant and growing need for substance abuse services in Delaware County and the Philadelphia suburbs," said Kevin P. Caputo, MD, vice president of behavioral health and chair of psychiatry at Crozer-Keystone. "The challenge to making a successful program like this is to provide access to coordinated services, connecting the dots between the community, healthcare organizations, law enforcement, schools andgovernment."
Prior to these centers, as few as 48 percent of Medicaid patients diagnosed with OUD were receiving treatment. Of those, only 33 percent remained engaged in treatment for more than 30 days. COEs provide treatment that is team-based and "whole-person" focused, with a goal of integrating behavioral health and primary care.
Additionally, the centers' care managers work to keep people with OUD in treatment, including coordinating follow-up care and community supports. COEs work as a hub-and-spoke network, with the designated center serving as the hub. The spokes can include primary care practices, the criminal justice system, emergency departments, social services providers, and other treatment providers, and other referral sources.
The administration's efforts have resulted in the development of integrated systems that are:
Encouraging simultaneous treatment of addiction and other physical and mental health issues.
Closing treatment system gaps through the use of community-based care management teams, so fewer people seeking recovery relapse.
Expanding access to medications that help people recover from addiction.
Developing relationships with other treatment providers, the criminal justice system, primary care practices, emergency departments, and other potential referral sources where people with OUD might present.
Get more information on the state's efforts to battle the opioid epidemic here. Read more about Crozer-Keystone Health System's Opioid Center of Excellence here or call (610) 497-7336.
Patrick Gavin, CEO of Crozer-Keystone Health System met with Teresa Miller, Secretary of the Pennsylvania Department of Human Services to discuss the importance of treatment efforts to fight opioid addiction in the state