Tustin's 2018 Large Business Of The Year Award Goes To Foothill Regional Medical Center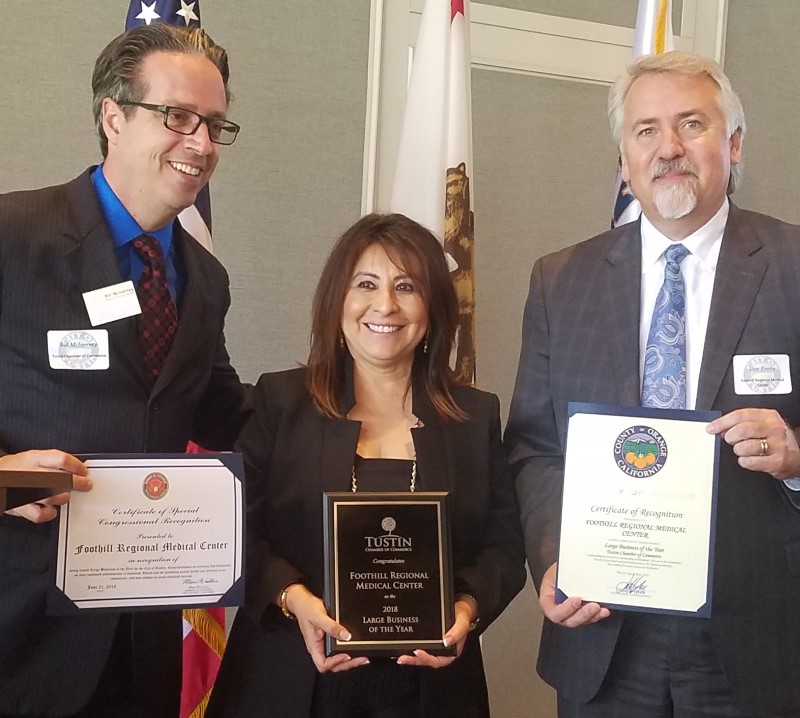 Foothill Regional Medical Center—which has undergone a successful transformation since it reopened under new ownership in 2015—received the City of Tustin's Large Business of the Year 2018 award on June 21 in recognition of its contribution to Tustin and surrounding area.
"Our commitment to our community is already being recognized by our patients," said Araceli Lonergan, Foothill Regional CEO. "Our emergency department patient satisfaction scores, for example, are in the 90th percentile and higher."
The annual Mayor's Business Recognition Luncheon provides an opportunity for Mayor Al Murray and the City Council to recognize Tustin businesses for their regional contributions. Since opening last year, Foothill Regional Medical Center's interior and exterior have been remodeled, spacious semi-private rooms with new furnishings created, a new emergency department with advanced technology opened, and an expanded orthopedic unit with state-of-the-art equipment established.
"Our full-service acute care hospital has been upgraded and recently received The Joint Commission's Gold Seal of Approval for Hospital Accreditation," added Don Kreitz, senior vice president of California Hospitals. "Foothill Regional is committed to becoming the premier hospital in this region."
The Gold Seal of Approval® is a symbol of quality that reflects an organization's commitment to providing safe and effective patient care.