Crozer Health, PA, Paramedic Returns Home To Hero's Welcome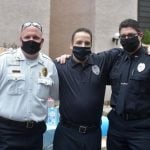 A Crozer Health paramedic who was seriously injured in an ambulance accident two weeks ago came home to a hero's welcome. Lt. Paramedic Nick Scull was given a state police escort home after being released from Crozer Health's Taylor Rehab.
Scull, dressed in his uniform, waved to friends as he arrived home with his wife Nichole. A gathering of co-workers, family and friends were on hand to welcome Scull, who had to be extricated by firefighters from the vehicle and admitted for immediate trauma surgery at Crozer-Chester Medical Center following the accident.
"It's great for Nick's family and his emergency services family to be able to get him home after his accident," said Bruce Egan, Crozer EMS Chief. "Police, fire and EMS all worked hard to get him home in prominent fashion."
"I told him that day when he was trapped inside the wreckage of that ambulance, we made eye contact and I said, 'we got you and we're going to take care of you,'" Egan said in an interview. "When we were coming down the elevator today, I said, 'Nick, we got you, (and we're) taking you home.'" The Crozer Health ambulance was carrying no patients and the school bus had no passengers. Read news coverage.