Culver City, CA, Hospital's Subacute Unit Upholds Strict Infection Control Guidelines, Remains Covid-Free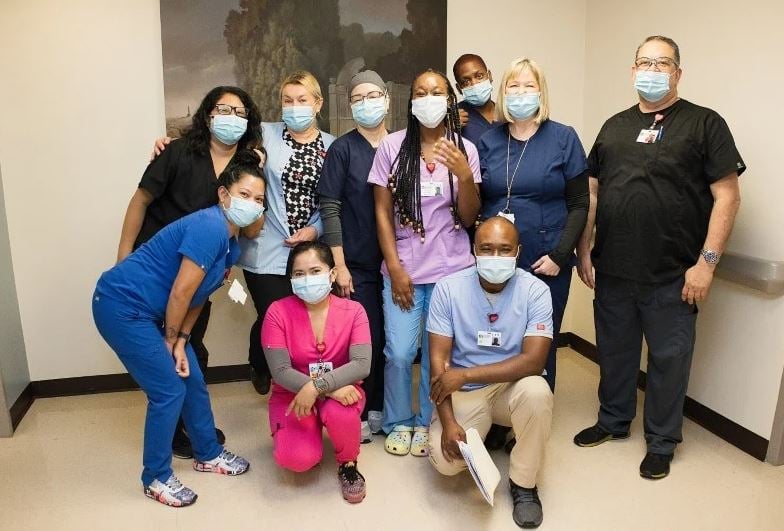 The combination of underlying medical conditions and a group setting means that residents of long-term care facilities are particularly vulnerable to COVID-19. Outbreaks at nursing homes and assisted living facilities worldwide have made headlines throughout the pandemic, leaving many worried about their loved ones in long-term care.
To prevent the spread of COVID-19, the subacute unit at Southern California Hospital at Culver City has maintained strict infection control procedures throughout the pandemic. They include testing staff weekly and residents monthly for COVID-19, as well as double temperature checks for anyone entering the facility. As a result, the unit has fortunately remained COVID-free.
"It's a lot of testing and discomfort, but everyone has been cooperative which I really appreciate," said Nursing Manager Robyn Popescu, ubacute unit. "Every week, I hold my breath when the results come in. So far, none of our employees or residents have been positive."
The 21-bed unit provides a level of care for individuals who no longer require acute hospitalization but remain medically fragile and require special services. These services may include inhalation therapy, tracheotomy care, intravenous tube feeding, or complex wound management care. Currently, all residents are long-term, with some having been at the facility for up to two years.
The entire subacute team, made up of nurses and nursing assistants, started undergoing COVID-19 testing initially on a monthly basis. That frequency was recently stepped up to weekly based on state guidelines, and Popescu didn't know how staff members would react to the change. The test involves a deep nasal swab that can be unpleasant to experience even one time, not to mention every 7 days.
"Because the unit is considered long-term care, we all have to be tested for COVID on a weekly basis," she said. "The staff have all been compliant with this requirement in order to keep our residents safe, despite the fact that the test is uncomfortable."
In addition, the subacute nurses and nursing assistants are the only workers in the entire hospital who receive double temperature checks. One is given to all workers coming into the hospital, and the second occurs before entering the subacute unit. The staff also wears the necessary protective personal equipment (PPE), like masks and gowns, when in the facility.
Popescu also added 11 new staff members to the department in the last five months. The extra hires have allowed the facility to rely less on outside workers during the pandemic, which lowers the risk of someone bringing an infection into the unit. In terms of admissions, the team quarantines any new residents in an isolated room for 14 days until negative COVID status is confirmed.
"I'm very, very proud of our staff. There are a lot of extra measures that we had to put into place to protect our residents, and staff members have truly put resident needs above their own," Popescu said.
In recent months, subacute nurses have also been given the option to float to the Acute Rehabilitation Unit (ARU), a specialized acute comprehensive medical rehabilitation program for those who need extended rehabilitative care after hospital discharge. So far, eight nurses have cross-trained in acute rehabilitation and now regularly volunteer to help the ARU when needed.
Even though loved ones are no longer able to visit, the subacute team has tried its best to make life comfortable for the residents and maintain their connection with the outside world. Patient care ambassadors use tablets to have residents be able to video conference with family members. Popescu and other nurses also call families often to check in and inform them about residents' status. Activities coordinators drop in daily to keep residents occupied and entertained.
The advantage of having a subacute unit within the hospital is that clinical services and rehabilitation are readily available for residents in-house. Instead of calling 911, which standalone facilities have to do, the subacute unit at Southern California Hospital at Culver City has a rapid response team for any emergency situations. Ancillary staff from the hospital — for example, respiratory therapists, social workers, dietitians, and pharmacists — contribute their time and effort to the subacute unit as well.
"In this very turbulent time of the pandemic, everyone has gone out of their way to take the extra precautions necessary to keep both residents and staff safe," said Popescu. "Our game plan for right now is to maintain our unit's negative status. That's our ultimate goal, to not ever have a case."
To find a physician affiliated with the hospital, click here.