Culver City Hospital, CA, Employees and Physicians Brighten the Holidays for Community Children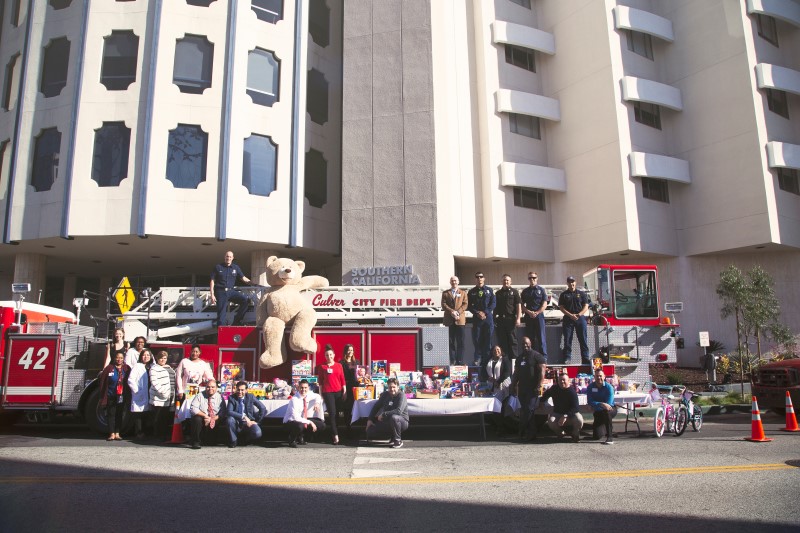 Employees at Southern California Hospital at Culver City in Los Angeles County opened their hearts and wallets in December so local children in need had toys to unwrap during the holidays.
In a partnership with the Culver City Fire Department, employees donated hundreds of toys to the annual Spark of Love Toy Drive.
For 27 years, local fire departments throughout Southern California have held the holiday toy drive to collect new toys and sports equipment to distribute to underserved children and teens. The toys are distributed in each fire department's community.
"We had an outpouring of donations," said Shana Crittenden, Culver City Hospital's chief operating officer. "I think people are very interested in helping less fortunate families, they just don't know how. When we provided an avenue they were happy to contribute."
Culver City firefighter/paramedic Fernando Benitez said more than $2,000 worth of gifts for infants to teenagers were donated.
"We definitely appreciate the hospital's employee and physician generosity in coming together with us during the holiday season to donate to this great cause."
The partnership came about when Crittenden and Benitez met during a Culver City leadership course and started brainstorming how the hospital and fire department could work together to benefit the community. "That's how it all started," he said.
Crittenden had collection boxes set up in the hospital cafeteria in December and donations of dolls, toy trucks, games, educational toys and even two bicycles quickly appeared. On the last day of the drive, employees donated $1,000 in cash for toy purchases.
"People just went into their pockets and said, 'here's $20,'" Crittenden said. "One donor said they would match whatever amount we collected."
Fire trucks rolled in on Dec. 20 to collect the donations, which were taken to a local church for distribution, Benitez said.
Crittenden has been chief operating officer since July 2018 and said that expanding the hospital's community outreach has been one of her goals. Last year, she worked with the local YMCA to provide emergency earthquake kits to local families and she expects more projects to come.
Crittenden said she expects the partnership with the Spark of Love Toy Drive will continue. "We would love to keep the tradition going and get even more participation next year."
To learn more about Culver City Hospital or to find an affiliated physician, click here.