Four Eastern Connecticut Health Network Nurses Receive Once-in-a-Lifetime Honor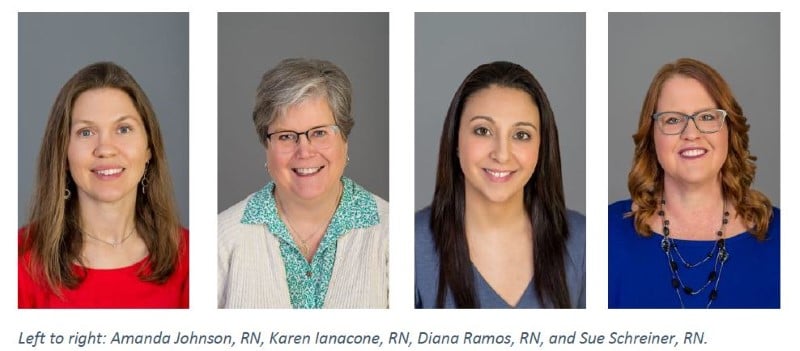 Four Eastern Connecticut Health Network (ECHN) nurses have been recognized for the significant impact they've had on patient care and/or the nursing profession, going beyond the call of duty, demonstrating excellence, showing commitment to the community they serve, and achieving a lifelong legacy in the field of nursing.
Amanda Johnson, RN, represents Woodlake at Tolland; Karen Ianacone, RN, represents Rockville Hospital; Diana Ramos, RN, represents Visiting Nurse and Health Services of Connecticut; and Sue Schreiner, RN, represents Manchester Hospital, are 2020 recipients of the Nightingale Award for Excellence in Nursing.
The award was developed in 2001 out of a desire to celebrate and elevate the nursing profession. As a nursing organization with more than a century of service, the Visiting Nurse Association of South Central Connecticut took the lead in creating the award and recognition ceremony. The Nightingale vision was quickly embraced by the Community Foundation for Greater New Haven, Yale-New Haven Hospital and The Hospital of Saint Raphael, whose financial support brought the idea to fruition.
The Nightingale Awards for Excellence in Nursing is open and inclusive of all healthcare settings—hospitals, home healthcare, health centers, schools, health departments, long-term care, nursing schools, medical practices and more. RNs and LPNs (full- or part-time) who demonstrate excellence may be considered for recognition if they are involved in clinical practice, leadership, and/or education.
Nurses receiving the Nightingale Award for Excellence in Nursing will be individually recognized at the program and invited on stage to receive a Certificate of Recognition, a Nightingale insignia lapel pin, and a commemorative gift. A nurse can only be nominated once for the award.