Los Angeles And Southern California Hospitals Donate Essential Items to Residential Care and Assisted Living Facilities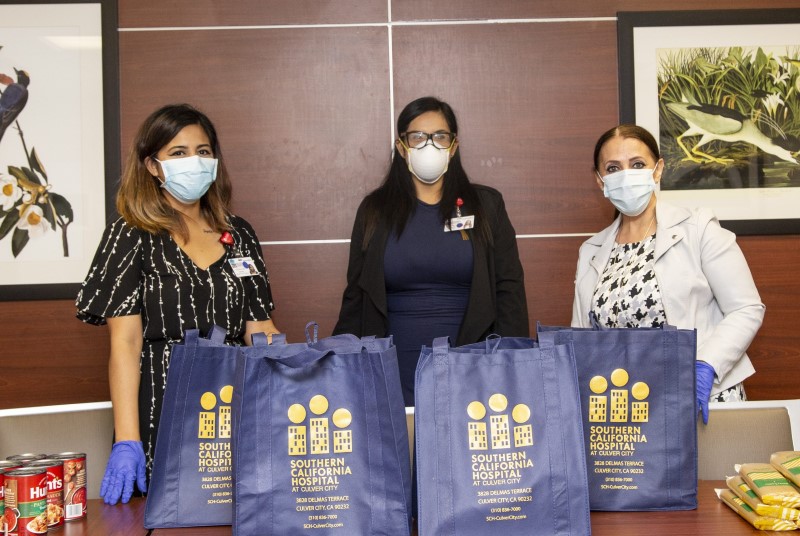 Employees of Los Angeles Community and Southern California Hospitals are giving back to the communities during the COVID-19 crisis, delivering bags of food and supplies to residential care and assisted living facilities. These facilities are vulnerable to shortages of food and household supplies due supply chain challenges and quantity restrictions at grocery stores.
The Los Angeles Community Hospitals' employees delivered supplies to 300 facilities in East Los Angeles and Norwalk, and the Southern California Hospital at Culver City team has delivered to 20 facilities in West Los Angeles to date.
The supplies are distributed each week and provide much-needed food and paper goods to thousands of vulnerable residents.
"Our communities are being impacted at many levels with the coronavirus," said Los Angeles Community Hospitals' CEO Hector Hernandez. "As a hospital we provide for the care of patients within our walls, but noticed an increasing need outside our walls. We wanted to help residential care and assisted living residents, who are primarily elderly, developmentally disabled or mentally disordered."
The hospitals' care coordinators comb stores daily to search for food, paper towels, toilet paper and other items. "We call it our daily treasure hunt," said Kathleen Navejas, Los Angeles Community Hospitals' senior vice president of care coordination.
"Donating to these facilities takes on a different meaning when you know that your contribution may be one of the only ways the facilities and their residents gets these crucial items," added Kathren Alkasspooles, vice president of business development at Southern California Hospital at Culver City.
Typical care packages include water, milk, eggs, bread, canned goods, soup, canned milk, peanut butter and jelly and dry food items, as well as sanitizer, masks, gloves, paper towels, soaps, wipes, bleach and toilet paper.
To make a donation to Los Angeles Community Hospitals, drop off donations in the lobby of Los Angeles Community Hospital, Norwalk Community Hospital or Bellflower Behavioral Health Hospital or Southern California Hospital at Hollywood. Call (323) 350-0111 to arrange for a pick-up
To make a donation to Southern California Hospital at Culver City, drop off your food donatio