National Cardiac Care Recognition Benefits West Los Angeles Patients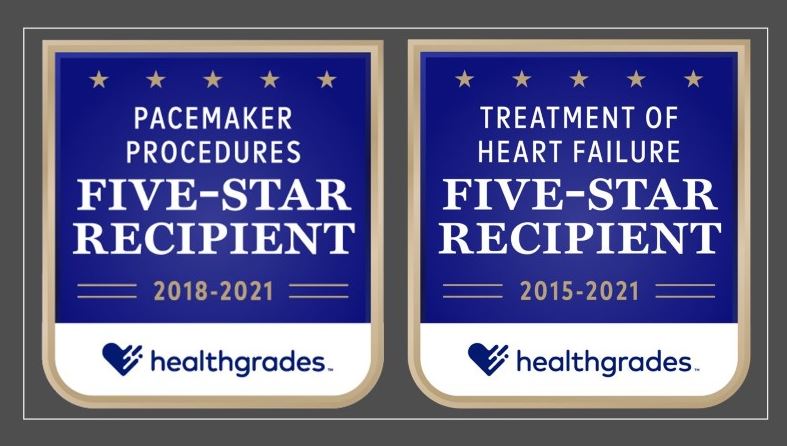 Southern California Hospital at Culver City was the 2021 five-star recipient for treatment in 10 clinical categories, including two national recognitions for cardiac care: 2021 Five-Star Recipient for Treatment of Heart Failure for seven years in a row (2015-2021) and Pacemaker Procedures for four years in a row (2018-2021).
Each year, Healthgrades evaluates hospital performance at nearly 4,500 hospitals nationwide for 32 of the most common inpatient procedures and conditions using Medicare data, and all-payer data from 16 states for bariatrics and appendectomy procedures.
"The importance of hospital quality is top of mind for consumers, as they are becoming more aware of the differences of care provided by different hospitals. Consumers can feel confident knowing that hospitals that are recognized for their performance in cardiac care provide high quality care and superior outcomes," said Dr. Brad Bowman, Healthgrades' chief medical officer.
"Our goal is to provide safe, nationally recognized cardiac care to residents in Culver City and West Los Angeles, which has been validated by Healthgrades' recognition annually," said Dr. Ernst von Schwarz, Southern California Hospital Heart Institute medical director. "The dedication results in these clinical achievements that benefit our patients."
Southern California Hospital at Culver City also is among the top 5% in the nation for Patient Safety Excellence (Healthgrades, 2018-2020)—an important distinction during the pandemic.
For its analysis, Healthgrades evaluated approximately 45 million Medicare inpatient records for nearly 4,500 short-term acute care hospitals nationwide to assess hospital performance in 32 common conditions and procedures, Individual procedure or condition cohorts are designated as 5-star (statistically significantly better than expected), 3-star (not statistically different from expected) and 1-star (statistically significantly worse than expected).
To learn more about Healthgrades, visit 2021 Report to the Nation.