New State-Of-The-Art Cardiac Cath Lab to Open at Southern California Hospital at Culver City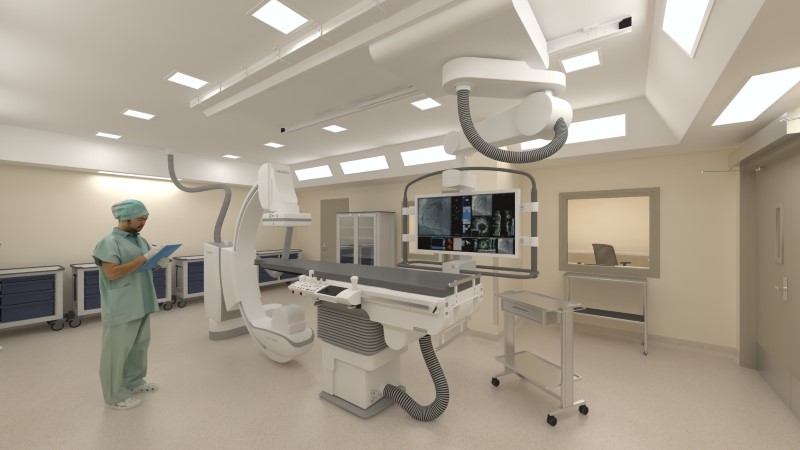 Southern California Hospital at Culver City celebrated the start of construction on a new cardiac catheterization lab that will allow for faster, easier access to care. The lab expands the Heart Institute's capacity to diagnose and treat cardiovascular disease, eliminating the need to transport patients to a different hospital—especially in cases where every second counts.
"It puts a burden on our patients to have to go to another facility, and if that person is having a medical emergency, that transfer could result in a life-threatening delay," said Shana Crittenden, chief operating officer of Southern California Hospital at Culver City. "We already have one cath lab and adding another means that our specialists can treat a greater volume of patients."
The new lab is scheduled to open by the end of the year. It will be fully equipped with advanced imaging and computing instrumentation for both diagnostic and interventional procedures, which include coronary angiography, coronary angioplasty, stent placement, and electrophysiology testing.
Most notably, it will contain a state-of-the-art medical imaging system that exposes patients to much less harmful radiation than the traditional X-ray machines used for cardiac catheterization. The Siemens Artis Q.zen provides enhanced visualization of blood vessels with what is called ultra-low-dose imaging, which reduces radiation dose while maintaining excellent image quality.
"Imagine you've been watching television on a tube TV, and then someone shows you a Samsung 4K, high-definition TV. That's the difference between our old and new cath lab technology," said Alaric Murg, cath lab operations manager. "We'll be able to see blockages and other cardiovascular events better and faster in order to better serve the patient."
Advanced Technology Allows for More Complex Procedures
The more advanced technology opens the doors for the hospital's cardiologists and vascular surgeons to perform more complex and critical procedures.
For instance, a chronic total occlusion (CTO) occurs when a months-long buildup of plaque completely blocks one of the major vessels that deliver blood to the heart. Approximately 15% to 20% of patients with coronary artery disease have a CTO. The process of treating a CTO requires incredibly fine and detailed imaging, which the Heart Institute will soon have access to with the state-of-the-art technology.
The new cath lab also will allow for same-day discharge after percutaneous coronary intervention (PCI), a common non-surgical procedure to improve blood flow to the heart. Doctors guide a catheter through a blood vessel to the heart and inflate a balloon to open a blocked artery. Hospitals have increasingly seen success with outpatient PCI practice, which allows patients to safely recover in the comfort of their own home.
Murg also sees the potential for treating patients with ischemic stroke in the new lab, which becomes a possibility with the next-generation imaging system. Catheter-based therapies are a minimally invasive way to safely remove cerebral vessel clots in order to restore blood flow to the brain.
The project starts with the removal of current equipment, followed by a complete demolition of the interior. New flooring, walls, and cabinetry for supplies will be installed. Lastly, the cath lab technology will be installed.
"With the new state-of-the-art equipment coming in, it will be a better experience for both the patients and the doctors providing the care." Armando Trujillo, construction project manager.
Other equipment improvements include an upgraded hemodynamic monitoring system—which directly measures blood pressure from inside the veins, heart, and arteries—and inventory management system. The former will speed up workflow with detailed clinical reporting and auto-completion of data fields, while the latter will improve cost effectiveness and efficiency by digitally tracking the balloons, stents, wires, and other supplies in the lab.
National Recognized Clinical Excellence
The effort is part of a larger initiative to keep pushing the excellence of Southern California Hospital at Culver City and its nationally recognized Heart Institute. Healthgrades has named the hospital a Five-Star Recipient for Treatment of Heart Attack and Heart Failure for six years in a row (2015-2020), as well as a Five-Star Recipient for Pacemaker Procedures for the last three years (2018-2020). Next, it aims to achieve status as a PCI Designated Center of Excellence.
"We're so excited to begin construction on this new cath lab that will allow us to better serve our community," said Crittenden. "This is just one part of our long-term goal to ensure that Southern California Hospital at Culver City is on the leading edge of healthcare."
Learn more about Southern California Hospital's Heart Institute.