Prospect Medical California Hospitals Open For All Services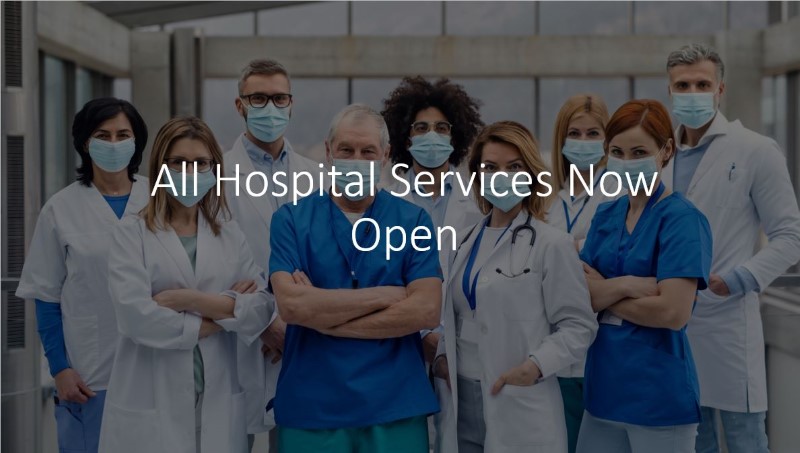 All services at Prospect Medical's California hospitals are now open, which includes Southern California Hospitals at Culver City and Hollywood, Los Angeles Community Hospitals at LA and Norwalk, and Foothill Regional Medical Center.
Health and safety is a top priority for patients and employees. All hospitals are following state and federal guidelines—as well as Prospect Medical's own rigorous processes and clinical standards—to create the safest possible environment.
To balance care with caution, our enhanced measures include:
Pre-procedure screening for all surgery patients
Social distancing policies for staff and patients
Adequate supply of Personal Protective Equipment (PPE), ventilators, medications, and other medical supplies
Daily terminal cleaning of the operating rooms to include the use of vaporizing aerial hydrogen peroxide technology for additional disinfection
Separate inpatient and outpatient admitting areas, entrances and exits to prevent any potential exposure
Inpatient and outpatient staff remain in designated areas assigned for the length of shift
All hospitals are still following the "No Visitor" guidelines. Exceptions can be addressed on individual basis.
What should I do if I am experiencing symptoms of coronavirus?
If you have symptoms consistent with COVID-19, follow the steps below to help prevent the disease from spreading to people in your home and community:
Stay home if you are experiencing mild symptoms. You should restrict activities outside of your home, except for getting medical care.
Contact your healthcare provider if your illness is worsening (i.e., difficulty breathing). Reach out to your healthcare provider by calling ahead. Tell your provider that you have or may have coronavirus-like symptoms so the staff can take steps to keep other patients from getting infected.
If available, wear a face mask when you are around other people to help prevent the spread of the virus.
When should I seek medical care?
If you are experiencing a severe medical emergency, such as shortness of breath, chest pain or altered mental status, please call 911 and request an ambulance.
If you're experiencing mild or moderate symptoms, call the doctor's office, emergency department or urgent care first so the staff can provide you more information and/or be ready to isolate you upon arrival. You also can call the city's department of health for further instructions at 211 in California.
Where can I get more information?
To learn more about the coronavirus, visit the CDC, World Health Organization and Los Angeles County Health & Human Services Agency websites.