Prospect's Vision for the Future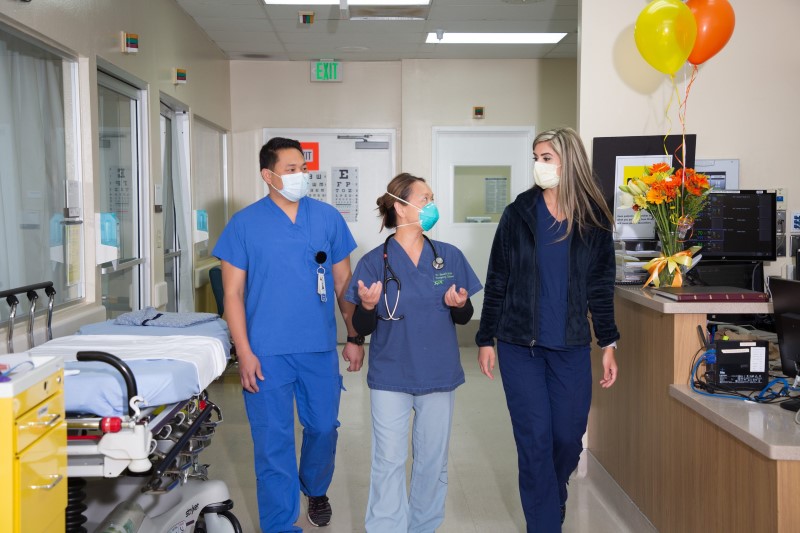 READ STORY ON THE LA DAILY NEWS WEBSITE
Since its founding more than two decades ago, Prospect has built a healthcare system and delivery model that not only anticipated the far-reaching changes facing the healthcare industry today, but also positioned the company for changes that will impact the healthcare industry in the future.
Prospect's origins as a unique combination of acute care hospitals, physician practices and medical groups helped the company prepare for an ongoing industry-wide transition to outpatient care from primarily hospital-based care. And long before today's focus on population health and population-based payment. Prospect developed and implemented its Coordinated Regional Care model that has significantly improved the company's ability to manage and address shifts in the industry.
Expansion and Investment in Prospect's Markets
Prospect has broadened its growth strategy by seeking to acquire or enter into joint ventures with other healthcare entities. These include hospitals, physician practices and medical groups, as well as outpatient service providers such as ambulatory surgery centers, urgent care centers, and freestanding imaging centers.
In January 2018, Erol Veznedaroglu, MD, a renowned neurosurgeon, partnered with Prospect to launch the Global Neurosciences Institute (GNI) at Prospect's Crozer Health system in Delaware County, Pennsylvania. GNI offers world-class neurologic diagnosis and treatment by an innovative team of nationally recognized and highly trained neurosurgeons, neurologists and neuroscience researchers.
"I chose to partner with Prospect because we both clearly understand the changes that are happening in healthcare," said Veznedaroglu. "One reason healthcare is considered 'broken' is that it has become too large and overly bureaucratic. The partnership allows us to be more patient-focused in providing care, while Prospect does what it does best – handling operational and business matters. In less than three years, we've become a market leader in providing innovative neurologic diagnosis and treatment."
In April 2018, GNI and Prospect collaborated to open the nation's first neurologic emergency room (Neuro ER) at Crozer-Chester Medical Center. The new Neuro ER is dedicated solely to treating patients with such neurologic emergencies as stroke, aneurysm, head trauma and seizure. "I give Prospect credit for making the Neuro ER possible," said Veznedaroglu. "I tried to do this in academia, without success, but Prospect stepped up and made it happen."
Joseph Whitlark, MD, a respected thoracic surgeon, joined Crozer Health in March 2020 from Penn State. To support Whitlark's new practice at Crozer, Prospect made significant investments in new medical technology, including the acquisition of a state-of-the-art robotic bronchoscopy system. Whitlark also performs high-end thoracic surgery using Crozer's robotic da Vinci Surgical System.
"I came to Crozer because I wanted to be involved with a program that is forward-thinking and committed to using the latest technology to help our patients," Whitlark said. "I believe Prospect is completely committed to supporting this program. They've given me everything I need to be successful. I'm very excited about the future here."
Innovative Initiatives to Improve Access to Care
Prospect has long anticipated and planned for providing healthcare outside the hospital, yet the COVID-19 pandemic has accelerated the timing of responding to this need. In the first phase of the pandemic, people were reluctant to leave their homes for medical care because they feared contracting the virus. Now, they increasingly want the convenience of receiving care in the comfort of their own homes, whenever feasible.
Prospect has launched several initiatives to improve access to care at home across the full care continuum. One is the Care@Home program, which – when it was launched about 18 months ago – initially focused on providing care to the sickest and most fragile patients. It is now being expanded to serve people who are simply uncomfortable leaving their homes to get care. First made available in California, Care@Home is now being rolled out in Prospect's East Coast markets.
Care@Home provides the convenient and safe way to receive care that patients desire. Powered by a proprietary algorithm that identifies and risk-stratifies the top 5-10 percent of the sickest patients, the algorithm combines clinical and claims-based information to identify patients with chronic conditions such as hypertension, chronic heart failure and diabetes, as well as any previous hospitalization history.
Jenelyn Lim, MD, Chief Medical Officer for Care@Home Solutions, came to Prospect in May 2020 from Stanford University's Accountable Care Division. "The objective of the Care@Home program is to keep these high-risk patients healthy at home, even though they may be very frail or sick," said Lim, an internist specializing in palliative care. "We bring our services to them, so they don't have to leave their homes to receive the care they need."
Care@Home multidisciplinary teams – consisting of a physician, nurse practitioners or physician assistants, nurses serving as care managers and care coordinators, a pharmacist, a dietitian, a social worker and a community health worker – provide a continuum of care for patients in the comfort of their own homes. Each 15-member team handles approximately 500 patients and is focused on providing such services as complex care management, transitions of care, palliative care, and annual wellness visits.
Another Prospect initiative is focused on telehealth and uses state-of-the-art technology to help physicians provide care to patients from remote locations. The company is currently making a significant investment in its information technology (IT) system to support enhanced telehealth services.
Hugo Yamada, MD, a longtime primary care physician at Prospect's CharterCARE Health system in Rhode Island, is one of two providers on a company-wide committee that is driving Prospect's adoption of telehealth services in all its markets. "Prospect is committed to working on ways to use telehealth to manage our patient population and adopting telehealth tools to extend the lives of the patients we care for," said Yamada. "While COVID-19 has forced all providers to change the way we practice medicine, including using telehealth, we're asking the question: What role will telehealth play in the long run? We believe telehealth is very good for managing patients at home and can potentially help reduce hospitalizations and readmissions."
In addition to utilizing telehealth for routine services, such as post-operative check-ups and diabetes and cholesterol management, Prospect is looking at employing telehealth technology to manage the care of patients with more complex medical needs who are physically unable to go to a doctor's office. The committee is looking at acquiring and deploying new devices to monitor patients' health in their homes and transmit that data to their doctors, as well as artificial intelligence technology to help interpret the patient data and assist physicians in providing the best care possible.
Partnerships with Payors and Community Providers
Prospect is committed to caring for vulnerable patients in medically underserved areas. Many other health systems have been unable or unwilling to serve these patients, who often suffer from mental illness, homelessness, or other conditions that make treatment difficult. To better serve their needs, however, Prospect continues to partner with payors and community providers who work directly with this patient population.
In Los Angeles, Prospect is a preferred partner of LA Care Health Plan, the nation's largest publicly operated health plan serving over 2 million members.
"We highly value our longstanding relationship with LA Care," said Mitchell Lew, MD, Prospect's President. "LA Care has been collaborative and innovative, and together we have established a number of programs to enhance patient outcomes, including an ER diversion program, a placement program for the especially medically vulnerable, and financial models that achieve the goals of value-based care."
To help meet vulnerable patients' medical and psychiatric needs, Prospect created a network of providers, available 24/7, to treat patients where they reside, whether in assisted living centers, board-and-care-homes, or skilled nursing facilities. If a patient needs to be admitted to a hospital ER or a behavioral health unit for further assessment, the Prospect team helps make the transition of care as seamless as possible for both the patient and their residence, while making sure the patients get the appropriate care. And when they are ready to be discharged, the team assists with the patient's transition back to where they live.
Prospect also has agreements with several health plans and independent physician associations to transfer patients from various Los Angeles-area hospitals to Prospect's hospitals when the other facilities run out of ER bed capacity or cannot provide the necessary services. Partners in the transfer program include LA Care, UCLA Medical Center, and Cedars-Sinai Medical Center.
Additionally, Prospect works closely with LA County's Medical Alert Center (MAC), which is responsible for coordinating the transfer of patients from private hospitals to county-operated hospitals and tracking the bed availability and diversion status of 911-receiving hospitals 24 hours a day. MAC transfers patients to Prospect hospitals when county-operated hospitals such as LA County-USC Medical Center do not have enough bed space.
Prospect's History of Saving Hospitals and Preserving Jobs
As it looks to expand its networks in new and innovative ways, Prospect also will remain committed to acquiring and rehabilitating closed or financially challenged hospitals, making prudent investments to improve and sustain them, and preserving access to healthcare and jobs at these facilities.
Prospect has a track record of saving hospitals and health systems across the country, including hospitals in economically challenged areas where other hospital operators were unwilling to take the risk.
In October 2016, Prospect acquired 356-bed Waterbury Hospital in Waterbury, Connecticut. The facility faced severe financial challenges, had been starved of investment for several years, and was on the brink of closing.
"It would have been devastating for the city if Waterbury Hospital had closed," said Waterbury Mayor Neil O'Leary. "We're a struggling city in a struggling state. Prospect came in and really turned the hospital around. They've stabilized its finances, preserved hundreds of jobs and invested millions of dollars in capital improvements, including new equipment and robotics technology, as well as upgrades to the ER. They've really enhanced the medical services the hospital offers the community. Since the Prospect acquisition, the relationship between Waterbury Hospital and the city has grown. Both of us have deep respect and admiration for each other."
Justin Lundbye, MD, a cardiologist who has served as Chief Medical Officer of Waterbury Hospital since December 2016, said Prospect has been focused on improving quality of care and patient safety at the hospital from Day 1. "Every call we have, every meeting we attend, the No.1 priority is improving quality and patient safety," he said. "Prospect is a leader not only in population health and the management of patients' lives on the outpatient side before they reach the hospital, but they're also focused on the inpatient side. They're committed to using every possible resource to support our inpatients and improve our quality of care."
Prospect has fully supported the hospital's push to achieve the coveted High Reliability Organization (HRO) designation, according to Lundbye. The HRO concept, taken largely from the airline and nuclear power industries, incorporates a relentless focus within an organization on safety over other performance measures. "We're more than 95 percent compliant and we're aiming for 100 percent," he said.
In May 2014, Prospect acquired two Southern California hospitals – 144-bed Bellflower Medical Center in Bellflower and 177-bed Foothill Regional Medical Center in Tustin – both of which had been closed by their previous owners. Prospect transformed Bellflower into a behavioral health hospital and reopened Foothill as a community-based hospital with a paramedic-receiving ER. The company also preserved Foothill's 42-bed pediatric subacute unit – one of only eight pediatric subacute programs in California and the only hospital-based pediatric subacute program serving Orange County. Both Foothill and Bellflower remain open and are part of Prospect today.
"Prospect preserved and reopened the only hospital in the city of Tustin, expanded the ER and was able to provide a great number of jobs," said Tustin Mayor Dr. Allan Bernstein. "They also preserved the pediatric subacute program, which continues to provide compassionate, loving care to a special group of kids. Prospect continues to be a great community partner with Tustin."
A Patient-Centered Model for Healthcare
Prospect has developed a unique, patient-centered delivery model called Coordinated Regional Care (CRC) that integrates the company's hospitals, outpatient centers and physician groups with other community providers in order to collaborate with payers. CRC furthers Prospect's mission to provide quality, affordable care in the communities it serves, and is practiced by all Prospect's California hospitals and medical groups. Prospect has expanded it to its other markets, where it is being embraced by payers, physicians and patients, who benefit from this proven, next-generation population health model.
The introduction of CRC in the company's expanded markets has not only added jobs but resulted in quality of care improvement and increased patient and physician satisfaction scores. More than 125 newly created, CRC-related jobs already have been added in Prospect's East Coast markets, with more expected to follow as CRC is more widely adopted there.
In Rhode Island, Prospect's CRC team has worked with CharterCARE Medical Associates, the 125-member independent physician association (IPA) affiliated with the system, to enhance quality of care. The IPA is now ranked between 4 and 4.5 CMS quality stars – with five stars being the highest score – on the star-rating system used by the federal government to measure how well Medicare Advantage plans perform.
"Our quality has gone up on multiple levels, not just in the areas that you can measure with numbers, but also on the intangibles," said Joseph Mazza, MD, an independent cardiologist who serves as Chair of the IPA Board. "Basically, CRC makes sure patients get the care they need, where and when they need it, in a coordinated way, without duplication of services. It means even treating patients at home, when appropriate, rather than making them go to the hospital to get care. CRC was a whole new concept in Rhode Island when Prospect first came in, but the success we've had speaks for itself. We're now providing better care, in a more efficient way."
Prospect Medical Group: Standards of Excellence
Prospect's continued emphasis on quality of patient care is essential to its vision for the future. Evidence of Prospect's longstanding commitment to quality can be seen in Southern California, where the company has owned or managed affiliated medical groups and provided physician services for more than two decades.
Prospect's expertise in patient-centered medical management, quality and compliance has earned the company some of the most prestigious awards in the healthcare industry. In 2020, Prospect Medical Group, the company's Orange, California-based IPA, was awarded "Elite Status" by America's Physician Groups (APG) for the ninth consecutive year. This is the highest level of performance awarded by APG, the leading national association representing physicians practicing coordinated, capitated care.
"Prospect has an organization-wide commitment to providing exceptional quality care and better outcomes for our patients, not only clinically, but also among our data analytics, IT, network management and contracting teams," said Derek Lanier, MD, MPH, who joined the company in March 2020 as National Chief Medical Officer for Prospect Medical Systems (PMS). PMS is a management services organization that develops, implements and manages a full range of support services for Prospect's 28 affiliated IPAs across the country, with approximately 600,000 members.
Maintaining this level of excellence requires a constant willingness to innovate and improve. Since coming to PMS, Lanier has overseen new initiatives designed to enhance the care provided to members. One initiative is the development of specialty pharmacy services to help ensure patients are getting the medications prescribed for their conditions and taking them in the correct dosages. "We believe by coordinating the pharmacy care of our members to make sure they're getting the right drug at the right time in the right place, we can improve both outcomes and patient satisfaction," Lanier explained.
A second initiative focuses on improving the management of heart failure (HF), which affects nearly 6.5 million Americans, contributes to about 36 percent of all cardiovascular disease deaths, and remains the No. 1 cause of hospitalizations in the Medicare population. "HF is a huge burden and, as a medical community, we don't manage it well," said Lanier. "We want to get out in front of HF symptoms by making sure we have the appropriate monitoring in place – including new digital tools – and are following best practices. At PMS, we have doctors, pharmacists, case managers and social workers who can go to members' homes to help manage their condition. We're also focused on educating our members so they can better take care of themselves."
Looking Ahead
As healthcare continues to evolve in both anticipated and unexpected ways, Prospect is well positioned to meet any challenges that arise. The company's vision for the future provides a solid foundation for its continued success.
"The greatest satisfaction that comes from leading our organization is knowing that we're providing access to quality care in many communities, helping keep local economies vibrant, and stepping up whenever there is a need," said Sam Lee, Prospect's CEO. "We are proud of our employees and network providers who save lives and provide essential care every day, for they are the foundation on which our ability to serve is built. We look forward to delivering on our commitment to providing Coordinated Regional Care in our current communities, and eventually others, for years to come."