Rehabilitation Services in Culver City, CA, Step Up for COVID-19 Patients in Need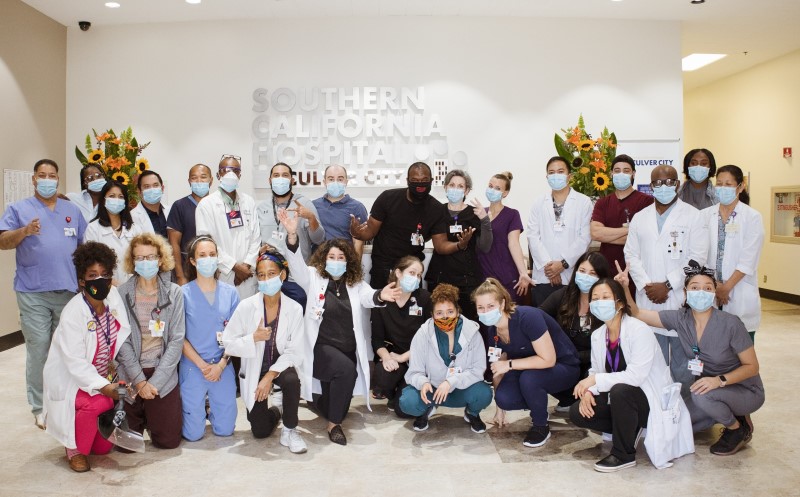 The rehabilitation services department at Southern California Hospital at Culver City is helping patients with COVID-19 recover from the lingering effects of the disease and regain their independence. Whether they need assistance with physical, occupational, or speech-related activities, the therapy team has stepped up to provide individualized treatment throughout the pandemic. "
The ability to care for themselves is healing for patients because it gives them a sense of normalcy in a world where things are completely abnormal," said Jessica Nowain Warsaw, manager of therapy services and wound care. "It isn't just about their medical management; it's also about emotional management and having their independence back."
Patients hospitalized with COVID-19 often need rehabilitation due to prolonged bed rest, long-term ventilator usage, and impairments related to the infection. They may have intense muscle weakness, reduced joint mobility, debilitated lung function, and trouble swallowing or talking.
The rehabilitation team at Southern California Hospital at Culver City — made up of therapists, physicians, nurses, social workers, and psychologists — works together to help COVID patients function at their best ability before going back home. Physical therapy focuses on strengthening their weakened muscles with exercise so they can walk and climb stairs again. Occupational therapy improves their ability to perform daily activities again, like getting dressed and showering.
Speech Therapists on the Front Line
Particularly important for previously ventilated patients recovering from COVID-19 is speech therapy, as being on a ventilator for a long period of time can lead to complications.
"Speech therapy played a large role in COVID recovery for many patients," Warsaw said. "All the muscles in the throat that help them swallow and talk become weak along with the rest of the body.
"Also, because COVID affects people's lungs, a lot of them have to be intubated. When they come off intubation, it affects the surrounding musculature. Speech therapists guide patients to eat safety by teaching them to coordinate swallowing and breathing."
Because rehabilitation therapy involves close physical contact, therapists always wear the appropriate personal protective equipment (PPE) such as masks, gloves, and gowns. Staff members created a rotation system so that only one therapist would take COVID-19 patients on any given day to limit any one person's exposure. The whole team showed up for their patients and one another. They did their best to maintain the same level of quality care despite the challenges posed by the pandemic.
The hard work has truly paid off in the form of patients initially battered by COVID-19 who showed major improvements after weeks or months of therapy.
"We had an amazing patient who was very ill when we first saw him, paralyzed and on a ventilator, and he ended up walking out of the hospital," Warsaw said. "That's in part to everyone's contribution. We took a lot of pride in his success because we contributed to his recovery in a big way."
Supporting Our Community
Warsaw remains incredibly proud of her team's willingness to jump in and support the community when help was desperately needed. Despite the risk of infection, therapists, nurses, and other staff members work tirelessly on the frontlines to treat COVID-19 patients on a daily basis.
Aside from those recovering from the coronavirus, the rehabilitation services department also treats patients with brain injury, arthritis, hip fracture, major trauma, and many other medical conditions. It plans to expand its education base in the coming year by providing advanced training therapists in stroke management, wound care and Parkinson's disease.
"When we decided to become therapists, we did it to help people," Warsaw said. "We want to help regardless of patients' situations and provide that level of humanity to medical care." She added, "That's what drives us to come into work every day."