RI-Based Chartercare Recognizes Meghan Carides With the Daisy Award for Extraordinary Patient Care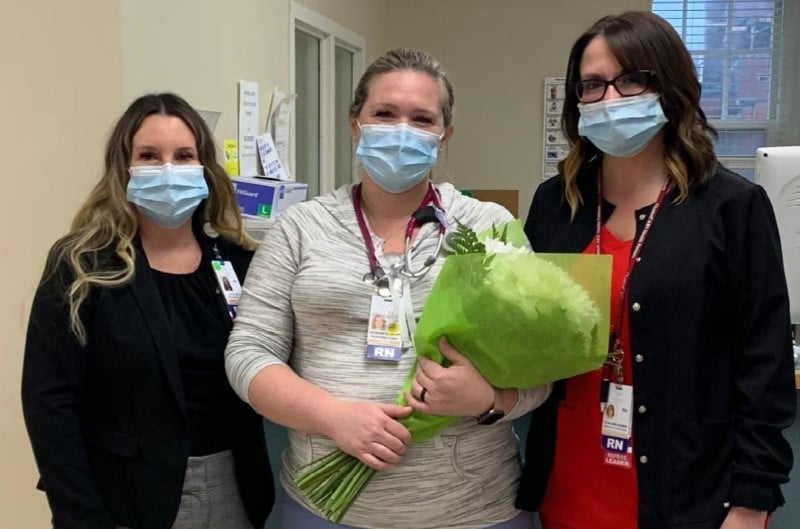 (Pictured L-R: Ellie Milo, Chief Nursing Officer, Carides, and Toni-Ann Nunes, RN)
Meghan Carides, RN, who has been with Roger Williams Hospital since 2009, was recently presented with The DAISY Award by her colleagues. The DAISY Award is a national recognition program started in 1999 by The DAISY Foundation to honor nurses for extraordinary work. Nurses are nominated by a patient, visitor, family member or other nurses. Carides was chosen among several worthy candidates and for two specific examples from many.
A nursing supervisor shared that Carides was at the end of her shift one evening and had clocked out. Yet she returned to the unit where a patient, who was not doing well and eventually succumbed to the illness, was located. Carides donned her PPE and went back into the patient's room (she was not even assigned to the patient) and held the patient's hand as he had no family at the bedside during his final moments. Carides was very grateful that she could be there with him and also offered support to the new nurse who cared for him throughout the day as she was very upset and struggling with his passing.
Another patient nominated Carides for what he said was, "care so far beyond what he could have expected." He added that she seemed to have anticipated his fears and worries and offered her own caring nature to heal the wounds that a band aid won't fix. He said he didn't want to be here but needed to be and Meghan and others made his experience more than he ever hoped for.
Ellie Milo, vice president and chief nursing officer, said Carides's compassion and dedication is what our profession is all about and truly embodies the Roger Williams nurse and philosophy: "I couldn't be more proud to stand side by side with all my nurses, especially during these trying times."