Southern California Hospital at Culver City Expands Orthopedic and Spine Services to Meeting Growing Need in West Los Angeles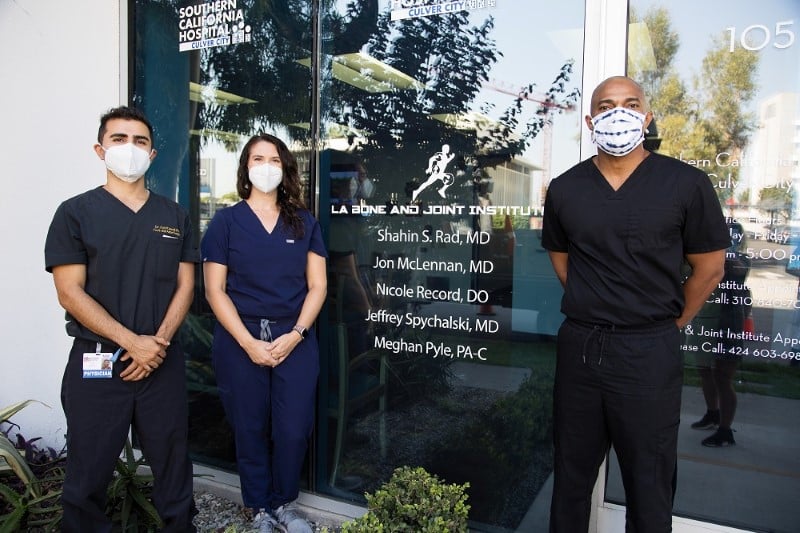 A new medical partnership significantly expands the number and type of orthopedic services available to Culver City residents. LA Bone and Joint Institute, originally based in Encino, has opened a second office on the Southern California Hospital at Culver City campus.
Expanded orthopedic services include treatment for medical problems of the hip, knee, shoulder, spine, hand/wrist, and foot/ankle, as well as sports medicine and trauma surgery.
"We offer a wide range of orthopedic care, from hip or knee replacement to non-surgical treatment like physical therapy or injections," said Dr. Shahin Rad, who founded the LA Bone and Joint Institute.
An example of non-surgical treatments is orthobiologic injections. Orthobiologics are substances that are already found within the body, like stem cells or platelets, which can stimulate the recovery process or even replenish dying cells and help tissue heal.
Through the hospital/institute partnership, advanced technology—such as computer navigation joint replacement and, in the near future, robotic joint replacement—are available to patients requiring surgery. Computer-assisted navigation provides the surgeon with real-time 3D images of the patient's affected hip or knee, as well as the surgical instruments, during joint replacement surgery.
"The greater accuracy and more precise alignment of the implant can extend its lifetime and improve patient outcomes," said Dr. Rad, who is board-certified with fellowship training in hip and knee replacement.
While orthopedic surgeons have had offices on the hospital campus in the past, this partnership marks the first time that a unified orthopedic practice is active at Southern California Hospital at Culver City.
"Having an seasoned group of orthopedic surgeons under one roof, all of whom are board-certified or board-eligible, provides patients with a more comprehensive and seamless experience," said the hospital's Kathren Alkasspooles, who is vice president of strategic planning.
In the six months since opening in Culver City, the LA Bone and Joint Institute has already seen high demand for its services throughout West LA. "There is a growing need for orthopedic care, which is why we expanded to West LA and chose to work with Southern California Hospital at Culver City," added Dr. Rad.
To find a physician affiliated with our hospital, visit our Physician Finder.