CharterCARE Health Partners Introduces New Digital Resuscitation Education System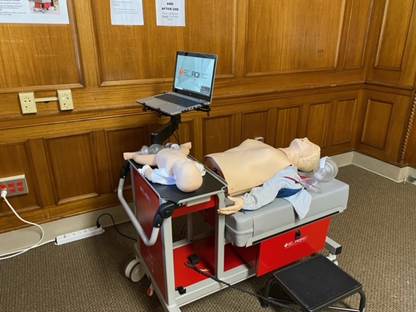 CharterCARE Health Partners announced the implementation of Resuscitation Quality Improvement® (RQI)®, a program co-developed by the American Heart Association and Laerdal Medical, to help clinicians at the network's acute care hospitals achieve sustained mastery of high-quality CPR skills and competence, leading to improved patient outcomes. CharterCARE, which is owned and operated by Prospect Medical Holdings, is a coordinated regional care network anchored by two acute care hospitals and is dedicated to ensuring Rhode Island residents receive first-class, quality care at the right time and in the right setting.
Patients who suffer a cardiac arrest must receive the highest quality CPR possible, which is known to be the cornerstone for survival. More than 209,000 in-hospital cardiac arrests occur annually in the U.S. with survival rates at about 26% from adult in-hospital cardiac arrest. For decades, the CPR training standard for healthcare providers has been Basic Life Support with a requirement for participants to renew their course completion card every two years. However, studies show CPR skills can decay within three to six months following this training.
CharterCARE is one of the first health systems in Rhode Island to launch the program, introducing RQI at Roger Williams Medical Center and Our Lady of Fatima Hospital and enrolling nearly 2,000 learners. Each hospital is deploying two RQI simulation stations, to deliver Basic Life Support, Advanced Life Support, and Pediatric Advanced Life Support course instruction. The stations are positioned throughout the hospitals, affording learners greater flexibility and 24/7 access to resuscitation education.
"RQI program adoption embraces our longstanding position of blending the best technology and clinical expertise to deliver exemplary personal care," said Jeffrey Liebman, CharterCARE Health Partners' chief executive officer. "Every second counts when responding to cardiac arrest events; our providers must possess the knowledge and skills to effectively and efficiently administer high-quality CPR on every patient, every time — at the right moment. We look forward to furthering our leadership in clinical excellence and the quality of patient care for which our hospitals are known by leveraging this unique digital CPR learning solution."
RQI is self-directed, simulation-based mastery learning and performance provided through cognitive and hands-on CPR quality improvement sessions that measure and verify competence. The program employs a "low-dose, high-frequency" model requiring healthcare providers to complete course assignments in short sessions every quarter. In 2018, the American Heart Association, the world's leading voluntary organization dedicated to a world of longer, healthier lives, and Laerdal Medical, the world leader in medical simulation and resuscitation training, called for a new standard of care by shifting resuscitation practice from training once every two years to verified CPR competence for healthcare professionals.
"CharterCARE Health Partners' RQI implementation illustrates the system's commitment to making high-quality CPR a priority and furthering our shared mission to improve patient care and help save more lives," said Bill Thompsen, senior vice president, Health Strategies, American Heart Association, Eastern States. "We are excited CharterCARE is fully embracing the program and working with the American Heart Association and Laerdal Medical to shift to a new standard of resuscitation care – competence."
To learn more about the RQI program and the value it brings to hospitals, patient care, and local communities, visit heart.org, www.laerdal.com and www.rqipartners.com.