Crozer Health Hosts Retirement Celebration for Long-Time Colleague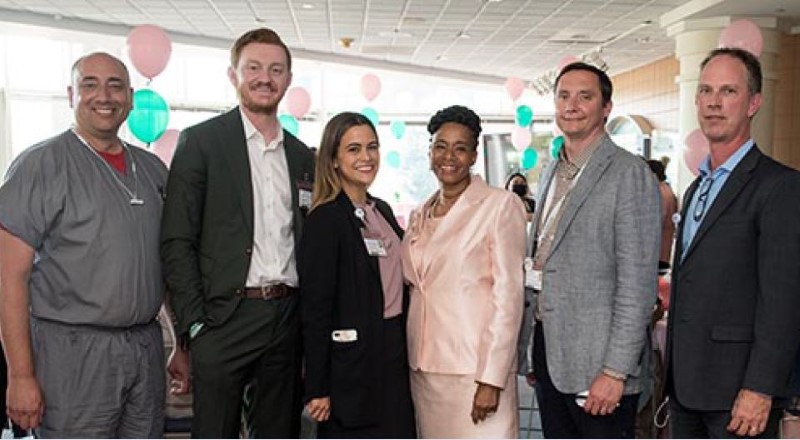 (Pictured L to R): Chief Medical Officer Dr. Gary Zimmer, Taylor Hospital Administrator Jonathan Koonce, Springfield Hospital Administrator Jenny Santiago, Gwen Smith, Prospect Medical East Coast VP of Financial Operations Michael Curran, and Delaware County Memorial Hospital President Matthew Shelak.
On June 30, 2021, Crozer Health said so long―but not goodbye―to colleague Gwen Smith, who worked for the hospital system for 41 years, as she embarks on a well-deserved retirement.
A festive reception was held at Crozer-Chester Medical Center where Smith spent much of her Crozer Health career. She was joined by her extended family, Crozer Health colleagues, and the mayor of Chester, Pa., where she was born and raised. Everyone gathered to pay homage to an amazing nurse, mentor, colleague, and "the best hire I ever made."
During remarks from leadership and former colleagues who reminisced about Smith's tenure at the health system, common themes emerged including leadership, mentorship, selflessness, dedication to patients, and a can-do attitude. Her family was thanked for their sacrifices over the years while Smith worked tirelessly, taking care of patients and her work "family."
"Gwen is one of the first people I met when I joined Crozer Health, and I've been so impressed with her," said Crozer Health CEO Peter Adamo. "This is a difficult day for me―I want to honor her, but it's difficult to say, 'so long'."
Since joining Crozer Health as a nurse in 1980, Smith's many roles included vice president of patient experience, president of Springfield Hospital, vice president of Community Health, and nursing director.
During the COVID-19 pandemic, she came out of semi-retirement to hold community vaccination clinics in Delaware County, and she personally administered more than 20,000 vaccines.
Inspired by Martin Luther King
Smith's passion for people stems from two principles from Dr. Martin Luther King, Jr., who she was privileged to meet as a young girl while he was studying at the Crozer Theological Seminary in Chester: "I'm not all I can be until you are all you can be" and "Our destinies are tied together; none of us can make it alone."
"Gwen is the most selfless person I know, and she's my hero," said Chief Nurse Executive Christine Mendez. "She's a nurse at heart, always putting the patients' best interests first. Gwen, I can't imagine Crozer Health without you. If we could all be like you, we'd be better people."
Regional Director Margaret Stevens, senior health services, had the group laughing through tears as she shared stories from years ago when Smith was her boss. "This organization was her life's work," said Stevens." She loves to teach and mentor others, and she imparted lots of life lessons onto me."
"It's an honor and privilege for me to recognize and thank Gwen," said Prospect Medical East Coast Vice President of Financial Operations Michael Curran. "I'm amazed by her ability to relate to people and raise them to a higher standard. She's the heart and soul of the health system, and our conscience, and I'll miss working with her."
After Adamo presented her with flowers and a gift from the organization, Smith addressed the group. While clearly overwhelmed, she has never been at a loss for words.
"I had the most amazing career here, and I thank you all for the opportunity to use my talents," she said. "I wanted to remain in my community that gave me so much so I could give back to others, and I need to be in this community. I love working with young people and giving them opportunities. My staff, peers, and coworkers… everyone worked together to make great things happen. Crozer Health will always be in my heart. What an amazing day. I thank you all."
Retirement Plans
Smith plans to spend retirement enjoying family time, traveling, and helping young people in her community. She will be sorely missed, but she'll always be a part of Crozer Health.