Crozer Health Nurse Paul Tuohey Receives Daisy Award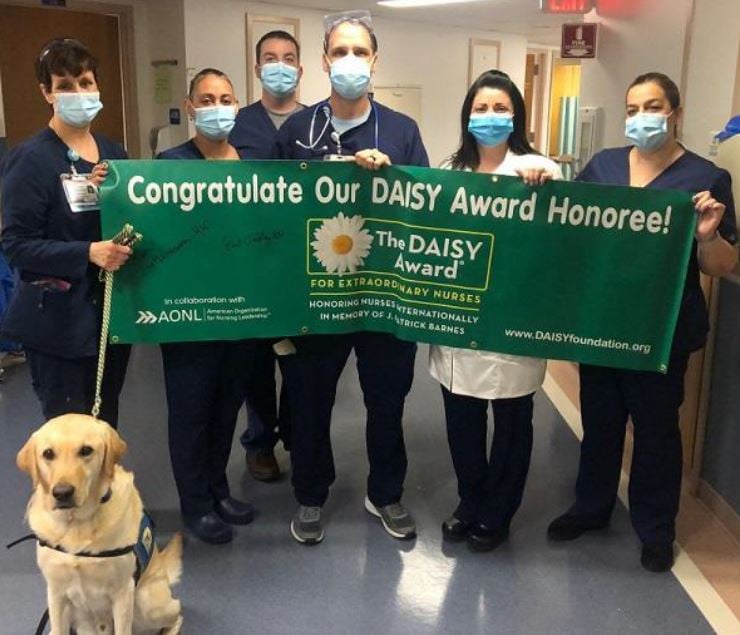 (Pictured L to R): Darlene Luther, RN, Vina Santiago, RN, Sean Styers, RN, Paul Tuohey, RN, Chief Nursing Officer C. Murray, Clinical Director In-Patient Nursing/Transport Heather Kostyk, RN, with Newark (Newie), Taylor Hospital's facility dog, who takes part in helping patients with their rehabilitation.
Paul Tuohey, a registered nurse at Crozer Health's Taylor Hospital in Ridley Park, PA, was recently named the health system's latest DAISY Award winner.
The DAISY® Award is an international program that recognizes excellence in nursing and was created by The DAISY Foundation to highlight the clinical skills, extraordinary passion and care exemplified by nurses every day. Award recipients consistently demonstrate each of the following criteria: dedicated, autonomous, innovative, selfless, and extraordinary.
Tuohey was nominated for The DAISY Award by six patients grateful for the way he demonstrates compassion for his patients; shows empathy in all he does while caring for them at the bedside; and the way he made them feel valued during their stay.
"Paul's patients refer to him as a 'star' and truly feel his devotion to their healing process," said Taylor Hospital Chief Nursing Officer Christine Maiorano. "We are so very thankful to have him on our team."
Tuohey has worked in the rehabilitation unit at Taylor Hospital since 2008. He serves as a role model and mentor and has acted as preceptor for many newly hired nurses over the years. His coworkers say it's easy to tell that he loves what he does by the way he teaches and cares for his patients. He has been recognized time and again for providing excellent patient care.