Crozer Health, Prospect Medical Donate $10,000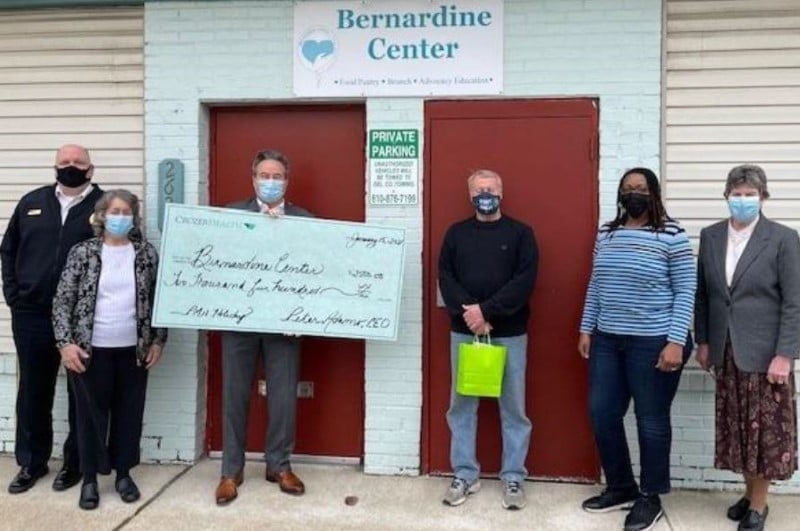 Crozer Health and Prospect Medical recently gave back to the Delaware County (Delco), Pennsylvania, community with an annual end-of-year financial donation. The $10,000 contribution was divided among four local organizations: The Bernardine Center, Community Action Agency, Domestic Abuse Project of Delaware County, and Catholic Social Services of Delaware County.
"We are grateful for the work these organizations do to improve our community and serve those in need, and we are pleased to be able to support them with a financial contribution," said Crozer Health CEO Peter Adamo. "As the largest health system in Delaware County we are committed to improving the health of our community beyond the care provided at our facilities. These donations reflect that commitment."
The Bernardine Center provides support to low-income residents in City of Chester and the surrounding area, including a food pantry, as well as educational and advocacy programs to help residents in their community build better lives for themselves.
"The COVID pandemic has hit us hard. Our shelves are sometimes scarce," said Sister Sandra, director of The Bernardine Center.
Community Action Agency of Delaware County is the primary provider of emergency housing to homeless people and families in Delco, with innovative approaches to housing, workforce development, energy conservation, social services, and community and economic development.
The Domestic Abuse Project of Delaware County (DAP) is the sole provider of domestic abuse services in Delco. Through donors like PM, Crozer Health, and others, DAP is able to provide support through its 24/7 hotline, emergency shelters, and advocacy.
Catholic Social Services (CSS) provides support for more than 3,100 people every day. Their network of programs offers support to those who need it most, including the homeless and hungry, at-risk youth, struggling families and single parents. CSS provides senior housing options, senior centers, older adult care management, in-home support programs, an elder care helpline, and senior clubs.