New Emergency Department Under Construction, Plans for Summer 2022 Opening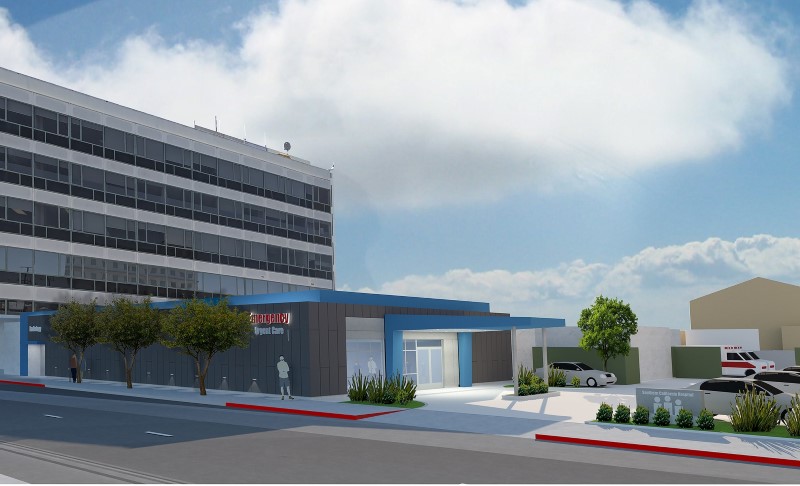 Culver City will soon have a new and improved emergency department with shorter wait times, more square footage, and modern technology. Southern California Hospital at Culver City has invested $20 million toward the design and construction of an upgraded emergency department that is expected to open next summer.

"We're proud to be working toward providing our community with a state-of-the-art, superior facility," said the hospital's Chief Operating Officer Shana Crittenden. "It's much needed, and so we're really excited about being able to expand our service offerings."

The current 24/7, paramedic-receiving emergency department is located on the first floor of the Tower Building and receives approximately 1,600 to 1,700 patients per month. Those numbers have increased significantly compared to 2020, which averaged about 1,300 visits per month. Although recent improvements in efficiencies have led to a faster workflow, a larger space with more beds will allow the hospital to better handle an ever-growing patient volume.

Emergency care will shift to an existing single-story building adjacent to the Tower Building that adds 80 percent more treatment and office space dedicated to the department. The size of the new facility is 10,900 square feet, compared to the previous 6,000 square feet, and the number of patient beds will increase from 17 to 23.
The new emergency department will provide area residents with:
Modern state-of-the-art emergency services
Enhanced patient care with dedicated fast-track services
Reduced wait times and increased patient throughput
Better serve growing and diverse community needs
Retrofit to meet state-mandated seismic standards
Dedicated emergency entry and patient drop off
Meeting the Demands of a Growing Culver City
"With the way that Culver City is growing with major companies opening in our community and local businesses growing, we anticipate that the number of visits to our emergency department will continue to increase," said Crittenden. "With this upgrade, patients who are really ill will get the services they need faster; and those who are coming in for something more minor will be seen and sent home more efficiently."

The new emergency department will feature a more streamlined ambulance drop-off area and ample parking for visitors. It also will be equipped with a more spacious waiting area, where a nurse will be available to check in patients as they arrive instead of a registration clerk. Other notable attributes include private patient rooms, three nursing stations, and a courtyard for access to natural light. As a contrast, the existing facility has no private rooms.

"We had almost three months of the architect going back and forth with the doctors and end users to make sure the design would facilitate the best possible workflow," said the hospital system's Design and Construction Director Mo Davani. "The new construction ensures the patient goes through all the steps of emergency care faster in comparison with the existing one."