Patient Names Waterbury Hospital's Newest Surgical Robot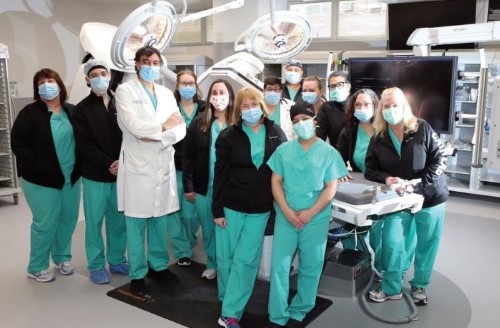 A patient who received treatment using Waterbury Hospital's newest surgical robot has earned the honor to name the robot.
The tradition of naming the surgical robots at Waterbury Hospital began several years back when the hospital added its first ever robot.
A Name the Robot Campaign concluded with a story so well loved by all members of the Robotic Steering Committee, who had final say in the decision, that they voted overwhelmingly for the choice offered by a patient whose life was changed dramatically thanks to the robot.
A young patient was facing such life changing odds that she initially refused surgery for cancer. She was referred to Colorectal Surgeon Dr. John Zhang, who in consulting with a multidisciplinary cancer care team, performed the surgery using the newest robot. While in the operating room and trying to put the patient at ease, a nurse asked the patient what she would name the robot. She replied "Grace."
After successful surgery the patient has a dramatically positive outcome compared to what she was facing and is doing well. The patient was delighted to hear that her name contribution was chosen but wanted to keep her privacy.
The robot's official name is TriXi Grace. The TriXi refers to the robot's technical abilities and the name of the maker.
The da Vinci Xi Surgical Systems, enables our surgeons to perform more complex surgeries as well as routine surgeries with just a few small incisions. Now, our patients can "get back to their lives" quicker, with better outcomes with less recovery time. TriXi includes a training console used to train the newest generation of surgeons.
Nearly 20 submissions were received in a first round of naming open to all Waterbury HEALTH employees and members of medical staff. The entries were very creative and included: WALLE, R2D2, ROS, Edward, Rosie, Tudor, Johnny 5, the Knot. This is the second da Vinci Xi Surgical System for Waterbury HEALTH.
Waterbury Hospital's first surgical robot is named WINDSOR.
Members of the Robotic Steering Committee, surgery department, senior leadership team and support staff participated in an official Christening Ceremony for the robot officiated by Deacon Neil Culhane, director of Pastoral Care Department.