Prospect Medical Focuses on Enhancing the Patient Experience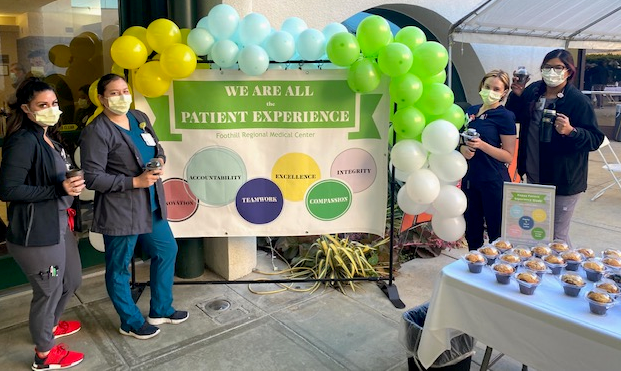 (Pictured): Foothill Regional Medical Center in Orange County, CA, staff celebrates Patient Exerience Week
Patient Experience Week is an annual event to celebrate hospitals' staff impact on patients' experience. Patient Experience Week (April 26-30, 2021) provides a focused time for us to celebrate accomplishments, re-energize efforts and honor the people who make a difference in our patients' experience every day—which is everyone who comes in contact with our patients, including information desk and operator staff, housekeeping, doctors and nurses, and technologists.
"At Prospect Medical, patient experience is focused on providing quality, safe and compassionate-connected care," said Prospect Medical Chief Experience Officer Phil Eswein. "Patients are at some of the most vulnerable times in their lives; they look to us to provide a healing environment that provides the best experience possible. Some suffering is inevitable and inherent; however, a lot of suffering is avoidable— our mission is to remove the unnecessary suffering.
Typically, Prospect's patient experience officers and ambassadors have many years of training and are acclimated to the culture of their individual facility and hospital system. Industry-leading patient experience best practices are implemented and tailored to the needs of our facilities.
"Whether we are successful or not depends on how patients perceive the care we provide," said Eswein. "As healthcare professionals, we evaluate our success on our patients' outcomes, safety and quality of care. Obviously, for patients, outcomes are important. They expect we will provide a safe environment, free from hospital-acquired infections or injuries.
"However, patients also evaluate us on whether staff, nurses, doctors and everyone they come into contact with are courteous and respectful, listen to their concerns, and are helpful," he continued "Is my room cleaned on a regular basis, is it a quiet environment for me to rest, are the staff responsive when I ring my call bell? Patients evaluate us on whether we are effective and live up to our mission, vision and values."