Resuscitation Quality Improvement Coming to Prospect Medical East Region Organizations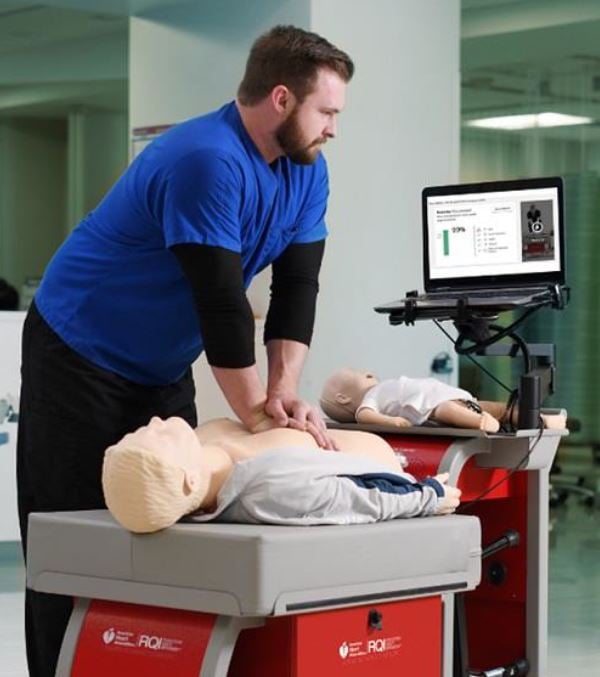 (PIctured): Resuscitation simulation station being demonstrated.
On July 1, Prospect Medical East Region organizations will be implementing Resuscitation Quality Improvement (RQI® 2025), a digital program from the American Heart Association and Laerdal Medical, which improves cardiopulmonary resuscitation (CPR) quality.
Every year, more than 290,000 cardiac arrests occur in U.S. hospitals. However, only about 26 percent of patients survive (though survival rates vary across hospital settings). The ability to consistently administer high-quality CPR is critical to improving outcomes and is the last chance for survival in a cardiac arrest emergency.
Studies show that the conventional two-year Basic Life Support training cycle is not optimal for achieving the mastery learning of high-quality CPR skills needed to save more lives. Skills decline in as few as three months after training is completed.
RQI 2025 is a digital solution for mastery learning, implemented through quarterly quality improvement sessions consisting of both e-learning cognitive assessment activities and skills sessions at the RQI simulation station site.
Through more frequent exposure to CPR simulation scenarios, Prospect Medical's East Region is committed to improving patient outcomes and decreasing preventable deaths from cardiac arrests, both in our hospital and in our community.
Visit the Prospect Medical RQI landing page for more.