Rhode Island's Our Lady of Fatima Introduces Advanced Visualization for Minimally Invasive Surgery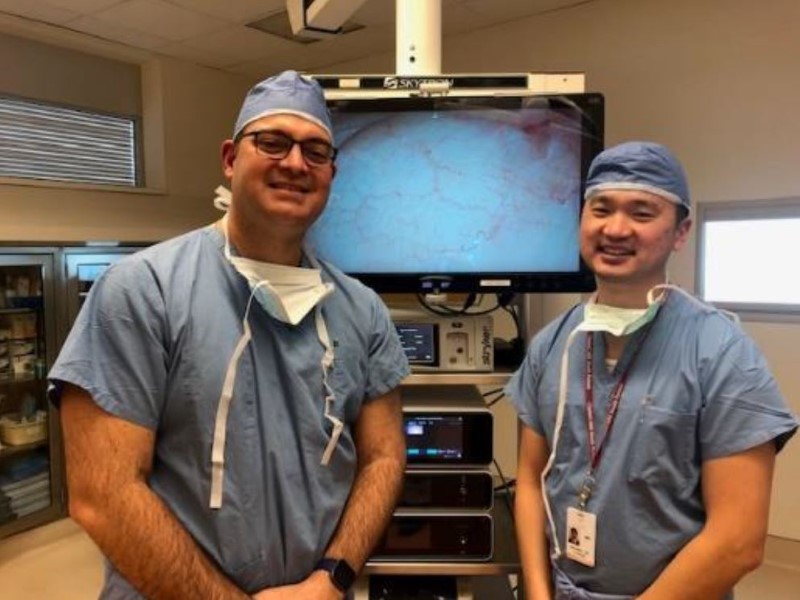 Surgeons at Our Lady of Fatima Hospital recently became the first in Rhode Island to perform surgeries using advanced visualization technology for laparoscopic procedures.
Last month, (pictured above) Dr. Abdul Saied Calvino, a surgical oncologist, and Dr. Michael Lin, a general surgeon with minimally invasive training, operated on the first two patients using this new technology, which allows surgeons to make better clinical decisions during colon and gallbladder surgeries, and other minimally invasive surgical procedures.
In 2020 Fatima purchased the latest Stryker 1688 AIM 4K platform and SPY Elite Fluorescence Imaging. Used together, this technology provides the surgeon with real-time images of important anatomy and blood vessels. For the imaging to work, a dye is delivered through IV about 30 minutes before the procedure.
Stryker's new platforms are less than a year old. Fatima is the first hospital in Rhode Island, and one of very few in New England, to have acquired this technology.
"This technology provides a roadmap to surgeons, allowing them to see more and do more during surgery," Calvino said. "It is a clear indication that Fatima Hospital and CharterCARE are willing and able to invest in advanced technologies to enable the surgeon to reduce surgical complications, avoid bile duct injuries, and achieve better clinical outcomes."
"The risk of the dye injection is minimal, while the benefit of the images during surgery is great," said Dr. Lin. "The hope is to use that additional information to reduce complications in more procedures for our patients."