Roger Williams Cancer Center in Rhode Island Shows Off High-Definition Dynamic Radiosurgery Platform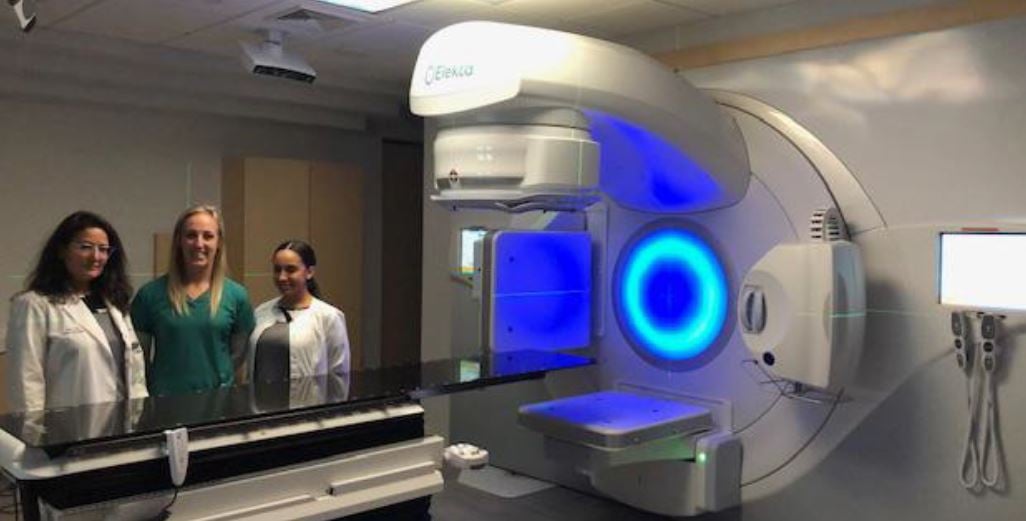 (Pictured L to R): Roger Williams Cancer Center radiation therapy team Laura Papa, Halley Allen, and Candice Gomes, with the machine they've named Zoe, which means "life" in Greek.
Hypo-fractionated radiation therapy demands the highest levels of accuracy and precision. Roger Williams Cancer Center in Providence, RI, now has the latest linear accelerator for advanced radiation capabilities, the Elekta Versa HD, which the staff nicknamed Zoe, which means life in Greek.
After arriving in April, it took several weeks to assemble, calibrate, and orient staff, but the Versa HD has already treated a number of cancer patients. Made available through Roger Williams Radiation Therapy, part of the Genesiscare network, the Versa HD's high-definition dynamic radiosurgery and advanced 4D imaging for anatomically guided accuracy expands the types of treatments that the cancer center can offer.
"I am incredibly enthusiastic about our acquisition of the latest technology available today for radiation therapies that can be deployed for the patients we care for," said Dr. N. Joseph Espat, cancer center medical director. "In fact, this is a level of therapeutic radiation therapy that is unparalleled anywhere in Rhode Island."
"This is the latest evidence of our commitment to be Rhode Island's only single source of access to the major areas of cancer care: medical oncology, surgical oncology, radiation oncology, and bone marrow replacement therapy."