Rolling Out COVID Testing and Vaccination Clinics has been its Own Test; Recipients Express Thanks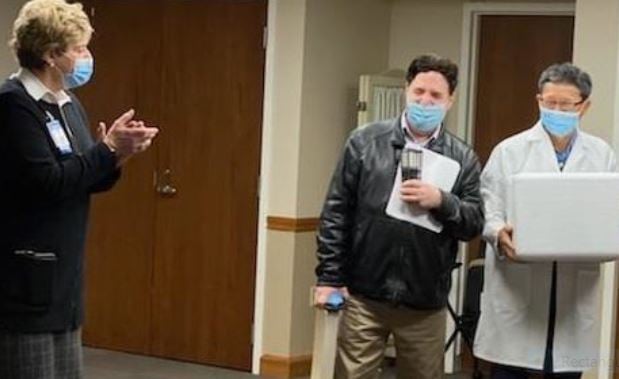 (Pictured): ECHN Chief Executive Officer Deborah Weymouth applauding Pharmacy Director Tom Cassidy and Pharmacist Don Shin, seen holding ECHN's first COVID-19 vaccine shipment back in December.
Throughout the COVID-19 pandemic, laboratory, pharmacist, and infection control leaders across Prospect Medical have had to develop testing and vaccination programs that have led to clinical laboratory service challenges and triumphs.
"Our laboratory leaders have been an amazing group of professionals that have taken on so much," said Sr. VP, Chief Operating Officer, Prospect Medical East Coast Hospital Division, Kimberly Lumia. "Not only in the hospital caring for patients with testing needs, but externally with drive through testing for the community."
"Laboratory staff across Southern California have been working tirelessly to provide services to our patients," said Dino Defensor, director of Clinical Laboratories, Southern California Region. "This pandemic has taught us to be mindful of our resources and be proactive on a lot of processes. We began COVID-19 testing in-house as early as May of 2020, and our turnaround time so far has been great compared to other hospital systems in the community."
New Protocols
"A great deal of work has gone into the development and implementation of new protocols including swab collection techniques, new testing platforms, and new diagnostic testing," said Leslie Martineau, director of laboratory services at CharterCARE. "These efforts have been essential to the diagnosis and treatment of patients with COVID-19." Soon after the testing programs were in full swing, vaccine programs and clinics needed to be set up.
"Our initial focus was on accommodating frontline staff and those performing direct patient care," said Otis Brown, vice president, external affairs at CharterCARE, who told The Providence Journal about half of CharterCARE's 3,000 have been vaccinated as of Jan. 13.
"We have since expanded eligibility to employees and physicians across the CharterCARE system and have been pleased with the response to date."
ECHN Chief Executive Officer Deborah Weymouth applauding Pharmacy Director Tom Cassidy and Pharmacist Don Shin, seen holding ECHN's first COVID-19 vaccine shipment back in December.
"ECHN was faced with the enormous challenge of implementing a new, unknown vaccine with limited resources and undetermined allocations from the state and federal levels," said Eastern Connecticut Health Network (ECHN) Pharmacy Director Tom Cassidy. "However, our leadership team, vaccinators, and support staff did an incredible job of quickly organizing and successfully implementing a smooth process from day one, while others struggled to get their program underway."
After a smooth rollout of COVID-19 vaccines to medical personnel, first responders, and other high-priority groups, ECHN is preparing to vaccinate a fresh wave of newly eligible residents once the state launches Phase 1B in the coming days. "Everyone is very excited to be part of this historic event," said ECHN VP of Quality & Safety Kathleen Davis. "Many vaccines, many tears of joy and hope."
Vaccine Administration Management System
Daniel DelGallo, President of Business Development who oversees ECHN's vaccine clinic, said they have served a steady stream of medical workers in the past few weeks, with most either dropping in without a prior appointment at Manchester Memorial Hospital, where the inoculations are administered, or signing up through Connecticut's Vaccine Administration Management System (VAMS).
"The evolution of the VAMS website has been challenging," said Waterbury Hospital Registered Nurse and Vaccine Coordinator Erika Fry. "They have made some efforts to improve the workability of the site, but it continues to be a roadblock at times. But I was forwarded a lovely email from a provider thanking me for my help, which makes the frustration worth it."
Waterbury Health's Senior Vice President and COO Mark H. Holtz said of Fry, "She has done a fabulous job, including learning on the fly."
"I helped in the clinic and one of the things I would hear over and over from staff was, 'I am excited to get the vaccine, I can't wait for this to be over' or 'I want to get the vaccine because I live with my parents and I do not want to take the virus home with me," said Shahbaz Salehi, senior director of infection control at Southern California Hospitals.
"Another person told me, 'I got the virus back in June and I was out for a few weeks. It was scary and awful, I do not want to take another chance with the virus, even though I might still have the antibodies."
Mary Kelleher, who serves as director of physician relations at ECHN, received both rounds of vaccine shots at Manchester Memorial and described the process as "seamless."
Kelleher said she's grateful to have received the vaccine and hopes that, after close to a year, the tide is finally turning in the battle against the pandemic. "We'll continue to be very safe, but it feels like we're beginning to see the light at the end of the tunnel."
"A true testament of how a community hospital bands together is realized through its ability to successfully implement something pretty incredible," said DelGallo.
Planning and Coordination
"Not only was there enormous planning and quick coordination internally to rally a vaccination program, but also a great partnership and collaboration with the town officials of Vernon and Manchester, along with local police forces, EMS teams and first responders," continued DelGallo. "This process demonstrates a perfect example of community strength, resilience, and connection during a crisis."
ECHN Senior VP & Chief Nursing Officer Mary Powers said, "Every time I am in the clinic I feel and see from those giving and receiving the vaccine a sense of hope. Hope in their eyes and voices. I would describe the clinic as the happiest place on earth."