Vaccine Arrives at Norwalk Community Hospital in California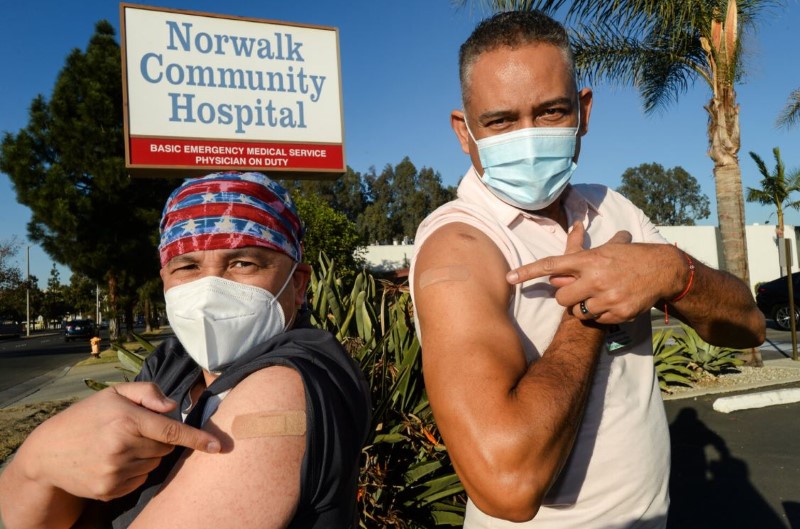 (Pictured L to R): Carmelo James, Chief Nursing Officer, left, and Hector Hernandez, CEO stand in front of Norwalk Community Hospital Staff after receiving their first doses of the Pfizer COVID-19 vaccine. (Photo by Keith Durflinger)
READ THE STORY AT THE NORWALK PATRIOT
The COVID-19 vaccine created by Pfizer arrived at Norwalk Community Hospital this week.
The hospital received 205 doses on Monday and planned to begin vaccinations throughout the week.
According to Hector Hernandez, CEO of Los Angeles Community Hospitals, the vaccines would be given to healthcare providers in high-risk departments, including the emergency department, intensive care unit, COVID units. Recipients include nurses, physicians, respiratory therapists, and housekeeping personnel, going down a chain dependent on level of risk.
This comes at a critical time in the fight against the coronavirus, as Norwalk Community faces many of the same difficulties other hospitals are facing state-wide.
Right now, we are at capacity; our ICU is full," said Hernandez. "We created a separate area to treat ICU patients. Fortunately, we do have the ICU nurses providing that care so it has not been a critical issue for us. But yes, we are at capacity.
Hernandez says that a recent survey found that about 70% of employees had expressed a desire to take the vaccine, however he believes that number will increase over time.
We expect that eventually when the employees see that their peers are taking the vaccine and reacting well, that percentage is going to increase. So, I'm very positive they will respond to the vaccine," said Hernandez.
It is currently unknown whether Norwalk will secure any of the newly approved Moderna vaccine.
With its arrival however, Hernandez hopes that the hospital will be able to begin vaccinating the community in the spring or summer. In the meantime, he advises individuals to follow health advisories.
"If we are a facility that is selected to contribute and distribute that vaccine, we'll gladly do that," said Hernandez. "Continue following the CDC and public health recommendations, social distancing, wearing the mask, and constantly wearing a mask. If you feel sick, please stay home, and if you see someone who is sick tell them to look for medical attention if needed.