Waterbury HEALTH Donates More than 120 Backpacks and Supplies to the Connecticut Community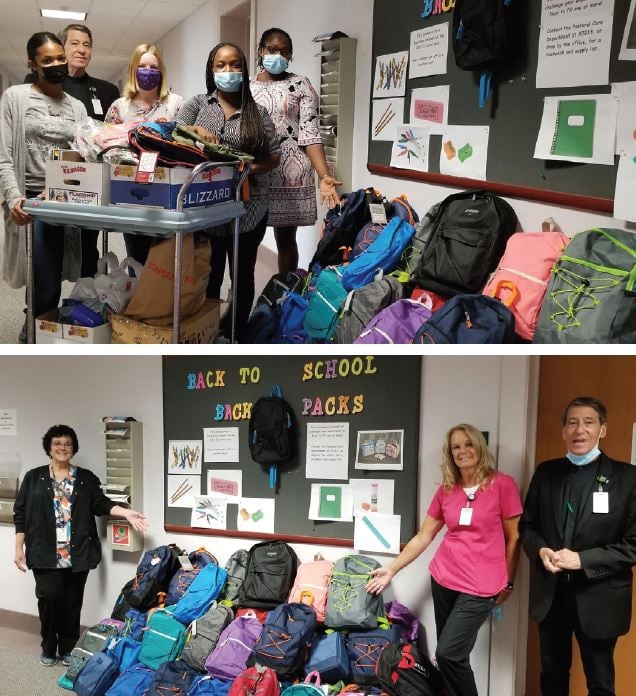 Waterbury HEALTH held it most successful summer backpack and supply drive in recent years. More than 120 needy children will have a new backpack and supplies this year thanks to a hugely successful backpack drive. Representatives from Waterbury Youth Services were at Waterbury Hospital the week of Aug. 16, 2021, to collect the backpacks and supplies.
Waterbury Hospital and Waterbury HEALTH have supported Waterbury Youth Services (WYS) through its summer backpack and supply drive for years. The hospital and staff purchase backpacks and supplies every year.
"Thank you to all of you who donated schools supplies for Waterbury Youth Services, which resulted in 75 backpacks stuffed with supplies. How great is that!" said Deacon Neil Culhane, hospital director of pastoral care and annual drive organizer.
A special thanks goes to the Family Birthing Center team which truly went above and beyond with this drive, generously donating about half of the supplies raised.
"This the largest donation we've received this year; it's much appreciated, " said Olivia Dudley, WYS youth development team leader.
With the help of Waterbury HEALTH, over the past 20 years, Waterbury Youth Services has been able to provide over 1,000 families with book bags and the necessary supplies to start the year.