Waterbury Health Network Giving its All in Connecticut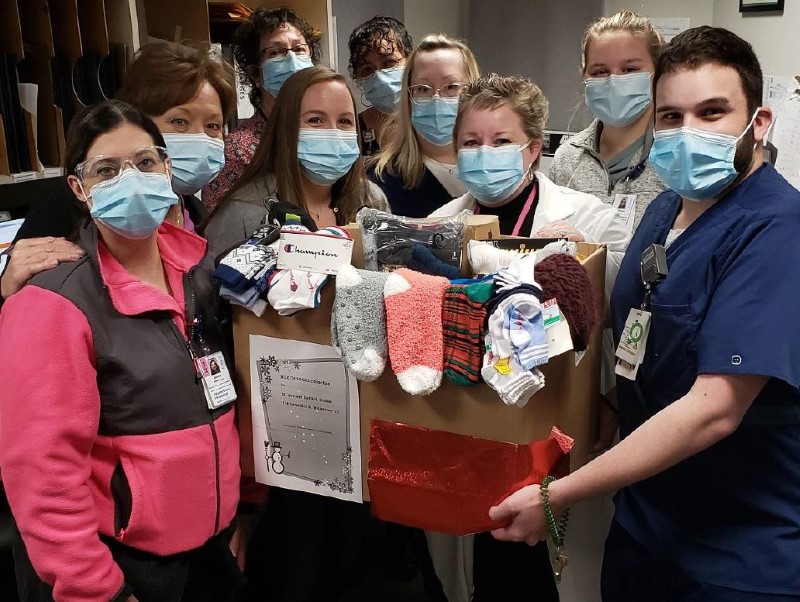 (Pictured): The team from behavioral health of Waterbury Hospital showing their socks off.
Whether it was cash, toys, gift cards, or socks, Waterbury HEALTH Network's employees and corporate contributions made a difference this holiday season in the lives of many Connecticut families and individuals.
Each year, Prospect Medical provides its affiliates with the means to make corporate donations to charities in the community. This year, given the increased need due to the pandemic, the amount of the donation was doubled.
This year Waterbury HEALTH's beneficiary was Greater Waterbury Interfaith Ministries (GWIM), which runs a soup kitchen 365 days a year that provides nearly 500,000 meals annually, and a food pantry that feeds hundreds of families.
"Thank you ever so much for your amazing gift. I am completely humbled and sincerely grateful for your generosity," said GWIM Executive Director Barbara Dublin. "On behalf of all the families that must utilize GWIM's services, please accept my gratitude for believing in GWIM's mission and supporting our soup kitchen and food pantry." Those in the Behavioral Health Center began and organized a holiday sock drive that benefited St. Vincent DePaul Mission of Waterbury Shelter.
Behavioral Health of Waterbury Hospital collected 135 pairs of socks, two pairs of gloves, one hat, and several packages of hand warmers. Medline Industries, Inc. of Danbury, Conn., donated 192 socks, and the Blue Jean Fund chipped in another 288 pair for a grand total of 615 pairs of socks donated to St. Vincent DePaul. "Waterbury Hospital is a crucial partner for us," said shelter director Jered Bruzas. "I am on the phone at least three to four times a day with the staff at Waterbury Hospital," including Waterbury HEALTH's Homeless Outreach Program Coordinator Tony Bocci, who makes daily visits to St. Vincent DePaul and other shelters nearby.
Waterbury HEALTH also held an Adopt-a-Family for the Holidays fund drive benefiting Safe Haven of Greater Waterbury, which provides emergency shelter and free comprehensive support services to victims and survivors of domestic violence and sexual assault. This year, different departments and offices throughout Waterbury HEALTH contributed generously with $3,500 collected in gift cards, cash, and toys, with more than 50 families benefiting via Safe Haven.
The Adopt-a-Family drive is coordinated by Sharon Burgison, a pharmacy tech at Waterbury Hospital. Thanks to Sharon, Waterbury HEALTH has supported Safe Haven over many years, raising more $30,000.