Waterbury Health Taking COVID-19 Vaccinations Directly to the Neighborhoods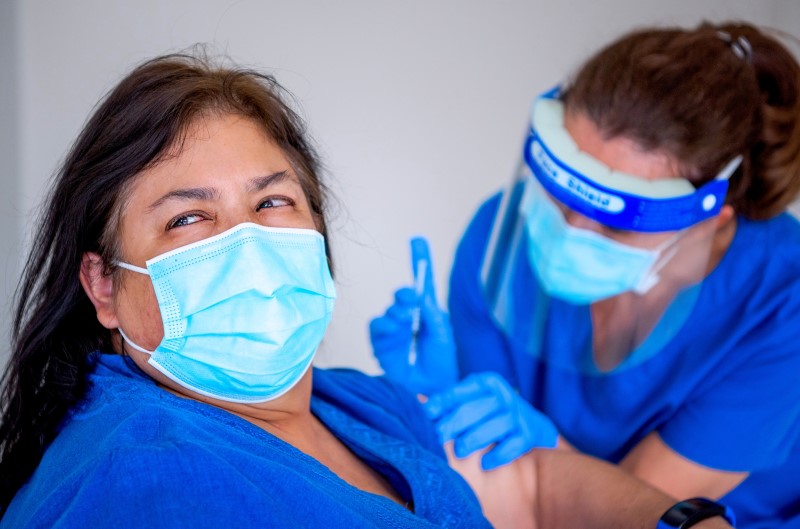 According to the CDC, African Americans, Latinx persons, and Native Americans are 2.9, 3.2, and 3.7 times more likely to be hospitalized by COVID-19 respectively than white, non-Hispanic people.
As of Feb. 25, data from the Connecticut Dept. of Public Health shows that 39 percent of white residents 65 and older have received the vaccine compared to 27 percent of Latinx, 26 percent of Asian persons, and 21 percent of African Americans.
Because of these statistics, Waterbury HEALTH is teaming up with the City of Waterbury Bureau of Recreation and groups like the Hispanic Coalition of Greater Waterbury to pinpoint where mobile clinics can best be deployed, such as a clinic at a recreation center in the heart of a heavily Hispanic portion of the city's South End, as well as at housing complexes and apartments that cater to the elderly.
"It's right in your neighborhood. You know the faces. It's very comforting," said Yarixa Lopez, a project assistant with Waterbury Hospital. "It's the best way to do it."
"The more important question is how do we get to those who have more difficulty accessing vaccinations, the Hispanic and minority population," said Waterbury Hospital Chief Medical Officer Justin Lundbye.
"I tried to sign into the pharmacy, but it was hard because the internet kept going down because there were so many people," said Mary Padro of Waterbury. "For me, it's close to my house; it's easy."
Yoellie Iglesias, executive director of Madre Latina in Waterbury, said there is still a lot of vaccine hesitation.
"The vaccine is still kind of taboo. They still don't know if they want to get the vaccine," Iglesias said.
Madre Latina and other nonprofits in the city have been helping translate the latest information on the vaccine for their communities. "We are trying to find all the places that are available for the Latino community, because some people don't have cars, some people work, some people have children," Iglesias explained.
"This is a target population," said Hispanic Coalition Director Victor Lopez. "Collaborating with Waterbury Hospital makes it possible."
Michael Hill, 59, who is African American and lives in the North End, said he had no hesitation at all and enjoyed the ease of signing up with the Hispanic Coalition. "I'm scared like everyone else is scared," Hill said as he sat in a waiting area following his vaccination. "This is something we see on TV. It's not something we thought could be where we are."
Those in Connecticut interested in signing up for a vaccination through the Hispanic Coalition should call (203) 754-6172.