Crozer Health Employee Shares Story of Being a Patient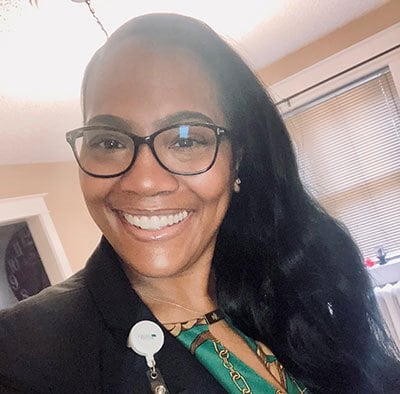 Having worked at Pennsylvania-based Crozer Health in human resources for over 20 years, Angela knows just how incredible and compassionate the employees are. As a recruiter, she understands the pressures Crozer Health's departments face.
Recently, she interacted with Crozer Health employees in a very different way―as a patient in the emergency department. She was thrilled with the clinical expertise and patient-focused care.
"I sliced my finger in the kitchen and proceeded to go to the emergency room at Crozer-Chester Medical Center," said Angela. "It was Memorial Day, so I was worried about a long wait time, but knew I needed medical attention. My experience there from the front desk to the back―the level of care and compassion and attention―is something that I want to tell others about."
"The woman at the front desk was so calm," Angela continued. "I was scared about how bad my injury was, and she made sure I was OK. Then, the triage nurse came over about 10 minutes later and was so welcoming and nice." Angela felt comforted and supported by everyone she met, including the physician assistant and licensed practical nurse (LPN) who checked her in and took her vitals.
Throughout her treatment, Angela was impressed with Crozer Health's emergency care. "The physician assistant Christen, and LPN Erica, provided a great experience for me," she said. "I am very afraid of needles, and I had to not only get three stitches in my finger, but a tetanus vaccine as well. I appreciated both of them so much. Christen explained the procedure step-by-step, and I could tell that she loves what she does. Erica held my hand while Christen numbed my finger and assured me that I would be fine.
"While they were caring for me, neither of them knew that I work for Crozer Health. All I was thinking was, 'We need more people like the two of them to work in our facilities.' They truly took the time to hold my hand and calm me down. It almost felt like I was the only patient there."
Angela's finger on her left hand is now recovering quickly. "The finger's healing well; the stitches were done so well," she said.
Despite the soreness, Angela took the time to type up her story using her right hand and only three fingers on the left to share her experience with fellow employees.
"The experience changed how I look at where I work and made me feel proud," she said. "When I was sitting [in the emergency department], I saw the need for great talent here in a different light. I want to find people with the same level of professionalism and care as those who helped me."
"Our employees are good, dedicated employees who are smart and know their work and add value to our health system. We have a good team that is working hard."
As a human resources professional, Angela is more inspired than ever to continue to grow the Crozer Health team, as well as foster a culture where employees praise each other and spread the good news about the entire organization to the community.
"I gained a different level of respect for our employees," Angela said. "Their caring touch meant a lot to me that day."