Los Angeles Community Hospitals Recognized for Fighting Flu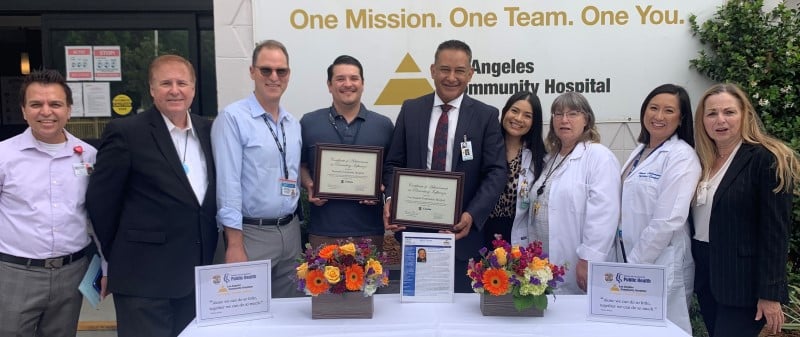 (Pictured Left to right): Hospital employees Tony Desai, Hospital Administrator Keith Levy, LACDPH's Dr. Zachary Rubin and Alejandro Ramirez, Hospitals' CEO Hector Hernandez, Jennifer Ovando, Pam Sullivan, Theresa Nakamura, Barbara Edmonds
Los Angeles Community Hospitals at Los Angeles, Norwalk and Bellflower were honored this week by the Los Angeles County Department of Public Health (LACDPH) for their outstanding accomplishment achieving above 90 percent of employees vaccinated for the flu.
Of the Los Angeles County hospitals, Los Angeles Community Hospitals ranked 12th out of 91 hospitals for the 2020 census. Los Angeles Community Hospital achieved 94 percent and Norwalk Community Hospital 93 percent.
"Your commitment to patient safety makes a difference in our county," said Dr. Zachary Rubin, LACDPH representative.
Infection preventionists keep patient safety in mind all year round and lead the annual influenza vaccine program rollout. Infection prevention encompasses both patient safety, and employee safety by educating hesitant healthcare workers about the safety and efficacy of the influenza and other vaccines.
Vaccines are shown effective in preventing the spread of influenza, disease, hospitalization and death. Many vaccinations (Tdap, hepatitis B, MMR, varicella, COVID-19) or proof of immunity are consistent with CDC recommendations. A high percentage of vaccinated employees, physicians, contractors and others, help keep everyone safe.
"We are fortunate to have such a dedicated team to help us stay safe and control infection," said Keith Levy, LA Community Hospital administrator.
Leading the infection prevention, infection control and employee health team is Barbara Edmonds, RN. Edmonds has presented nationwide and internationally on multidrug-resistant organisms and is certified in infection control (IC). Other team members include Theresa Nakamura, Norwalk and Bellflower IC/employee health coordinator; Pam Sullivan, employee health nurse; Jennifer Ovando, IC/employee health associate; and Ramiro Delfin, LA Community Hospital IC coordinator.