New Technology at Waterbury Hospital Offers Advanced Radiology Treatment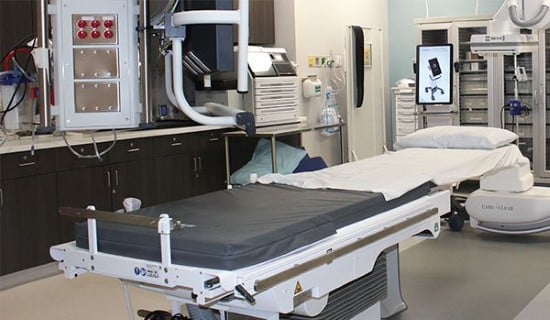 Waterbury Hospital in Connecticut opened a new interventional radiology suite with the latest technology, adding to already sophisticated treatment options for patients. For patients in greater Waterbury this new technology means less invasive and more complex procedures may be available to them close to home, including:
Chemoembolization of liver malignancies - This is a minimally invasive process of directly infusing chemotherapy into liver tumors through a catheter in the artery. This targeted treatment allows for high concentration of chemotherapy within the tumors while minimizing damage to the surrounding liver and also limiting side effects associated with the medication.
Prostate embolization for severe benign prostatic hypertrophy - A minimally invasive procedure that shrinks enlarged prostate glands by blocking the blood flow to the gland.
Percutaneous pulmonary thromboembolectomy - A minimally invasive surgical procedure used to remove blood clots from arteries.
"These state-of-the-art procedures are in addition to other sophisticated procedures we already offered patients, including uterine fibroid embolization, tumor microwave ablation, trans jugular Intrahepatic portosystemic shunt and more," said Dr. Duncan Belcher, radiology.
To support the technology, Dr. Ryan Duggan, interventional radiology, joined the medical staff as part of Diagnostic Radiology Associates.