Prospect Medical Hospitals Achieve Clinical Quality Awards from Healthgrades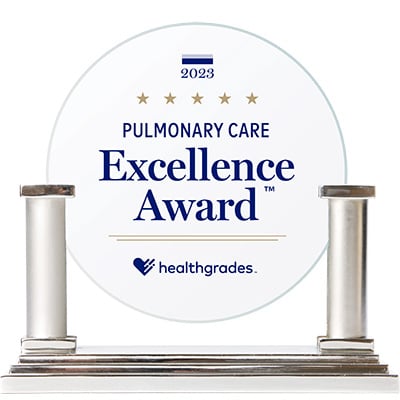 Prospect Medical hospitals received "5 stars" for excellent clinical outcomes, according to Healthgrades' 2023 Quality Ratings & Awards, which evaluate performance at almost 4,500 hospitals nationwide to determine clinical excellence in 17 specialty care areas.
In total, Prospect Medical Hospitals achieved 26 five-star quality awards in six categories: Cardiac, Critical Care, Gastrointestinal (GI), Labor and Delivery, Orthopedics, and Pulmonary.
Five of Prospect Medical's hospitals—Crozer-Chester Medical Center, Foothill Regional Medical Center, Los Angeles Community Hospitals, Southern California Hospital at Hollywood, Waterbury Hospital—received aditional clinical distinction in pulmonary care.
Of note, Southern California Hospital at Hollywood is the only hospital in California to receive the Five-Star Distinction for Treatment of COPD for 21 years, the only hospital in Los Angeles County to receive the America's 100 Best Hospitals for Gastrointestinal Care Award, and one of Healthgrades America's 100 Best Hospitals for Pulmonary Care and GI Care in 2023.
"We commend the recognized hospitals for their ongoing commitment to high-quality specialty care," said Dr. Brad Bowman, Healthgrades' chief medical officer and head of data science. "Healthgrades 2023 Specialty Excellence Awards and Ratings showcase hospitals around the country that deliver consistently exceptional patient outcomes in a given medical specialty."
"It's heartening to see the results of all of the hard work from our doctors, nurses, and staff at all of our hospitals," said Cathy Stevens, Corporate Chief Nursing Officer & Quality, Patient Safety, and Clinical Excellence Officer. "Prospect Medical looks forward to continuing to bring compassionate care and state-of-the-art medical services to the communities we serve."
PROSPECT MEDICAL – 2023 BY THE NUMBERS
26 Five-Star Achievements
3 Specialty Excellence Awards for Pulmonary and GI Care
Crozer-Chester Medical Center
Cardiac
Five-Star Recipient for Coronary Interventional Procedures in 2023
Pulmonary
Five-Star Recipient for Treatment of Pneumonia in 2023
Labor and Delivery
Five-Star Recipient for Vaginal Delivery in 2022
Delaware County Memorial Hospital
Labor and Delivery
Five-Star Recipient for C Section Delivery in 2022
Foothill Regional Medical Center
Orthopedics
Five-Star Recipient for Hip Fracture Treatment for 5 Years in a Row (2019 2023)
Pulmonary
Five-Star Recipient for Treatment of Pneumonia in 2023
Los Angeles Community Hospital
Cardiac
Five-Star Recipient for Treatment of Heart Failure for 2 Years in a Row (2022-2023)
Orthopedics
Five-Star Recipient for Hip Fracture Treatment for 10 Years in a Row (2014-2023)
Pulmonary
Recipient of the Healthgrades Pulmonary Care Excellence Award for 5 Years in a Row (2019-2023)
Named Among the Top 10% in the Nation for Overall Pulmonary Services for 5 Years in a Row (2019-2023)
Five-Star Recipient for Treatment of Chronic Obstructive Pulmonary Disease for 6 Years in a Row (2018 2023)
Five-Star Recipient for Treatment of Pneumonia for 5 Years in a Row (2019-2023)
Gastrointestinal
Five-Star Recipient for Treatment of Bowel Obstruction in 2023
Critical Care
Five-Star Recipient for Treatment of Sepsis for 5 Years in a Row (2019-2023)
Five-Star Recipient for Treatment of Diabetic Emergencies in 2023
Patient Safety
Recipient of the Healthgrades 2022 Patient Safety Excellence Award
Named Among the Top 5% in the Nation for Patient Safety in 2022
Named Among the Top 10% in the Nation for Patient Safety in 2022
Manchester Memorial Hospital
Orthopedics
Five-Star Recipient for Hip Fracture Treatment in 2023
Critical Care
Five-Star Recipient for Treatment of Sepsis in 2023
Five-Star Recipient for Treatment of Respiratory Failure in 2023
Five-Star Recipient for Treatment of Diabetic Emergencies in 2023
Patient Safety
Recipient of the Healthgrades 2022 Patient Safety Excellence Award
Named Among the Top 5% in the Nation for Patient Safety in 2022
Named Among the Top 10% in the Nation for Patient Safety in 2022
Southern California Hospital at Hollywood
The only hospital in California to receive the Five-Star Distinction for Treatment of COPD for 21 years (2003-2023)
The only hospital in Los Angeles County to receive the America's 100 Best Hospitals for Gastrointestinal Care Award
Best Specialty
One of Healthgrades America's 100 Best Hospitals for Pulmonary Care in 2023
One of Healthgrades America's 100 Best Hospitals for Gastrointestinal Care in 2023
Orthopedics
Five-Star Recipient for Hip Fracture Treatment for 4 Years in a Row (2020-2023)
Pulmonary
Recipient of the Healthgrades Pulmonary Care Excellence Award for 4 Years in a Row (2020-2023)
Named Among the Top 5% in the Nation for Overall Pulmonary Services, and America's 100 Best Pulmonary Care, for 3 Years in a Row (2021-2023)
Named Among the Top 10% in the Nation for Overall Pulmonary Services for 4 Years in a Row (2020-2023)
Five-Star Recipient for Treatment of Chronic Obstructive Pulmonary Disease for 21 Years in a Row (2003-2023)
Five-Star Recipient for Treatment of Pneumonia for 4 Years in a Row (2020-2023)
Gastrointestinal
America's 100 Best Gastrointestinal Care for 3 Years in a Row (2021-2023)
Recipient of the Healthgrades Gastrointestinal Care Excellence Award for 4 Years in a Row (2020-2023)
Named Among the Top 5% in the Nation for Overall GI Services in 2023
Named Among the Top 5% in the Nation for GI Medical Treatment in 2023
Named Among the Top 10% in the Nation for Overall GI Services for 4 Years in a Row (2020-2023)
Named Among the Top 10% in the Nation for GI Medical Treatment for 4 Years in a Row (2020-2023)
Five-Star Recipient for Treatment of GI Bleed for 4 Years in a Row (2020-2023)
Critical Care
Five-Star Recipient for Treatment of Sepsis for 4 Years in a Row (2020 2023)
Five-Star Recipient for Treatment of Diabetic Emergencies in 2023

Patient Safety
Recipient of the Healthgrades Patient Safety Excellence Award for 5 Years in a Row (2018-2022)
Named Among the Top 5% in the Nation for Patient Safety for 5 Years in a Row (2018-2022)
Named Among the Top 10% in the Nation for Patient Safety for 5 Years in a Row (2018-2022)
Waterbury Hospital

The only hospital in CT with Five-Stars for Treatment of GI Bleed
Pulmonary
Five-Star Recipient for Treatment of Pneumonia in 2023
Gastrointestinal
Five-Star Recipient for Treatment of GI Bleed in 2023