Ten Culver City Nurses Receive National Daisy Award in 2022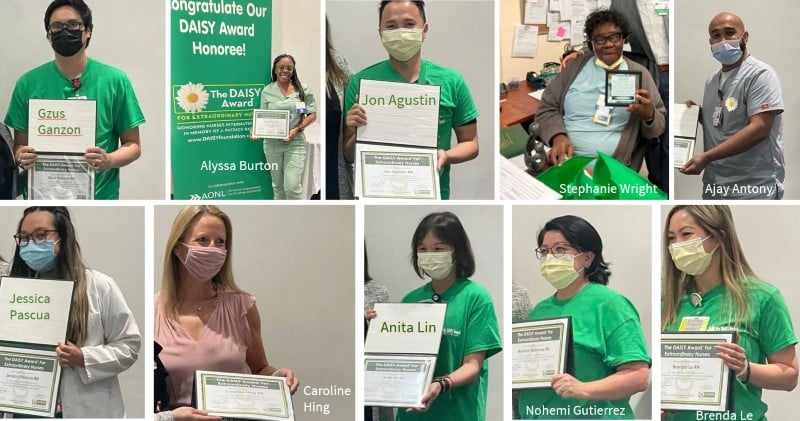 Ten Southern California Hospital at Culver City nurses were the recipients of the national 2022 Daisy Award, awarded to nurses who provide extraordinary compassionate care.
Please read more about each of their nominations below.
Alyssia Burton, RN, Emergency Department
"Alyssa is a piece of sunshine in my day when I get to work with her. She is consistently positive and very detailed with her work when it comes to patient care. Any time I have needed her help she has provided it without batting an eye. We need more nurses like her."
Brenda Le, RN, Telemetry
"My nurse Brenda treated me with excellent care. She took the time to hear the way I feel—my concerns with my health and issues and the things that I wanted to ask questions about and get the answers to. She went above and beyond to make sure I was comfortable. Anything I asked for, if it was in her power to do she did it. Brenda spoke directly with doctors about my medication and made sure that the things that I was most worried about were taken care of, from medicine to food to water to just listening to me. She really made me feel like a person and that she really cared. I can tell she loves doing her job and helping people."
Nohemi Gutierrez, RN, Subacute
"She makes being a nurse seem very rewarding. She is a great nurse who helps teach and explains how to do things when you don't know how. She is such a great person. She stayed overtime in order to help me with a code blue documentation. She is very helpful and if not for her help I wouldn't have been able to document precisely and in a timely manner."
Caroline Hing, RN, Emergency Department
"Caroline Hing is the best!!! She is a team worker. She is always pleasant and willing to help. She makes sure the department runs smoothly and the physicians welcome her input and collaboration."
"Mr. Antony is very attentive to his patients. He exhibits a caring attitude toward his patients and loves to learn new things about nursing knowledge. Mr. Antony is an asset to the SICU team!"
"Jessica or JP is an amazing floor nurse and charge nurse. She loves being a leader to her unit and she really cares for her nurses. She is a good example and a mentor to her fellow staff. I know I can always count on her because she is always ready to help. She would always tell me "when someone is drowning, the whole floor is drowning" and when someone is in trouble, the whole unit is in trouble. She always emphasized the importance of our unit as a family. I remember when my assignment was heavy. One of my patient's bp was in the 200s, one was trying to get out of bed, and a transfer from p5 who was very cyanotic and was having a hard time breathing. O2 75-80% non-rebreather mask, and the Patient was noncompliant with the oxygen treatment. JP was Charge that day. She helped me stabilize my cyanotic patient, asked the other nurses to keep an eye on my fall risk patient, and helped me call the doctor for my hypertensive patient to get PRN bp medications. That day was very stressful but JP made it bearable because she was there to help me. Whenever JP is Charge, I know I will be okay and I am not afraid to work. JP loves to be in charge and ensures that her unit is well organized. She is very knowledgeable, and approachable, and all who know her love her."
Gzus Ganzon, RN, Telemetry
"He checked to make sure I was comfortable at night - that I had water and I did not have trouble breathing. He took the time out to listen to anything I asked questions about and tried to the best of his ability to explain it to me. He took the time out to try to give me the answers I needed. The first night I was admitted after dinner. He went above and beyond to get me something to eat because I missed dinner. I really appreciated that and will never forget my experience. He made me feel special and if I return I would like him to take care of me. He handled me with care and definitely made me comfortable about coming and being admitted to the hospital. I would like to say thank you to Gzus and that I really appreciate him taking care of me."
Stephanie Wright, RN, Administration
"Adaptability, Team player, Amazing Team Player, We love Stephanie! Stephanie has been the ultimate example of "hands-on support". Some have even said…. Teamwork is her middle name. Her willingness to help, assist, and stand with the frontline staff in the most challenging times has made her an invaluable asset. Her compassion and ability to communicate with a patient, family members, physicians, RNs, C.N.A.s, Operators, etc. has made her a Culver City Hospital favorite to work with."
Anita Lin, RN, Telemetry
"I feel so much more supported as a floor nurse. She somehow finds a way to make the shift fun and keep a smile on our faces. Anita advocates for patients and floor nurses with patience, kindness, and professionalism. Whenever anyone needs help she will stay extra, go out of her way, and actually be bedside assisting. Honestly, I don't know if I would have made it this long in this hospital without her."
Jon Agustin, RN, Telemetry
"What sets John apart is his "hands-on" approach as a charge nurse. If we have a problem with a patient, he is with us in the room. If we need guidance, he teaches us. If we need supplies, he knows how to obtain those supplies for us. If we have a hard stick, Jon will help us. He also keeps a great sense of humor, and if that is not enough he always helps us check the charts for orders and new labs so we will not miss anything. Jon leads by example and Jon is the reason I still work at this hospital."
Note: This is Jon's second DAISY Award!