Waterbury Hospital Ranked High-Performing Hospital for 3 Conditions by U.S. News & World Report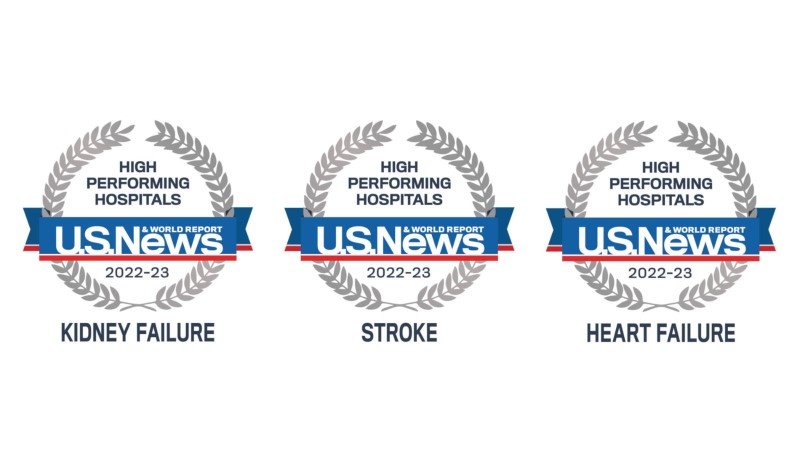 Waterbury Hospital in Connecticut was ranked a high-performing hospital by U.S. News & World Report for quality treatment of patients suffering from Heart Failure, Kidney Failure, and Stroke in recently released 2022-2023 Best Hospital Edition.
U.S. News evaluates 15 specialty areas of care. In 12 of the specialty areas, rankings are derived from data sources, such as Medicare, and includes number of patients served, patient services and patient experience. The rankings started with about 4,500 hospitals, which represent virtually all U.S. community inpatient facilities.
The rankings are the latest in quality distinctions for Waterbury Hospital, which also was ranked among the top 10 percent in the nation in Coronary Intervention Excellence Award™ by Healthgrades. In addition, Waterbury Hospital is a Five-Star Recipient for Treatment of Heart Attack in 2022, according to new research released by Healthgrades, the leading resource that connects consumers, physicians and health systems.
"Our strong focus on quality care is showing results. I'm proud of the hard work being done here every day to provide quality care to patients," said Waterbury HEALTH CEO Dr. Justin Lundbye.
New Technology
Waterbury HEALTH recently invested in new technology and added new sophisticated services for patients including transaortic heart valve replacement (without open heart surgery), a new interventional radiology suite whose services will include more targeted treatment of liver cancers. Later this year, Waterbury HEALTH is adding to its neurosurgery services.