Waterbury Hospital: Meeting Community Healthcare Needs for Over 130 Years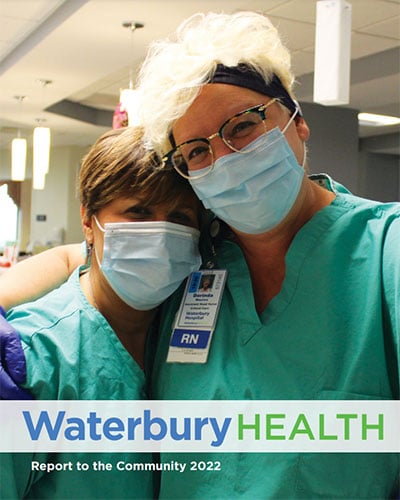 When I first came to Connecticut-based Waterbury Hospital in November 2016 as Chief Medical Officer, I remember instantly being won over by the warm, friendly culture at the hospital. Whenever I walked through the hallways, people smiled and said "Hi."
It soon became clear to me that—in addition to offering a welcoming community hospital environment—Waterbury Hospital is home to a very sophisticated medical staff. The vast majority of our physicians are board certified in their chosen specialties and highly trained.
As CEO of Waterbury HEALTH since November 2021, I now know that both of my initial impressions of the hospital were entirely accurate. As you will learn after reading this community report, Waterbury Hospital combines the best of two very different kinds of hospital.
On the one hand, we are small enough—and approachable enough—to be the kind of place where our patients can feel comforted and well cared for at their time of greatest need. We also care for the sickest and most vulnerable people in our society. In other words, we are a true community hospital.
At the same time, we are a teaching hospital for some of the most prestigious academic medical institutions in the state of Connecticut. Our physicians are dedicated to maintaining our long tradition of educating and training future generations of doctors and other healthcare providers. And with investment from Prospect, we have been able to add advanced medical technology and equipment to support a higher level of patient care.
There is no denying that the COVID pandemic and the resulting surge in inflation have had a significant negative impact on virtually all healthcare systems in the country—and Waterbury HEALTH is no exception. Even with these ongoing challenges, however, we remain fully committed to our patients, staff, and our community.
We are taking significant steps to ensure Waterbury HEALTH has a stable operational and financial foundation to continue serving our community with safe, quality patient care for many years to come. One of these steps is returning the health system to nonprofit status.
We are excited about joining Yale New Haven Health System and we are confident that, working together, we will be able to achieve our common goal of improving patient outcomes and access to care for our greater Waterbury.
Sincerely,
Justin Lundbye, MD
President and CEO, Waterbury HEALTH