Waterbury Hospital Staff Help Distribute Donated Book Bags to Local Schools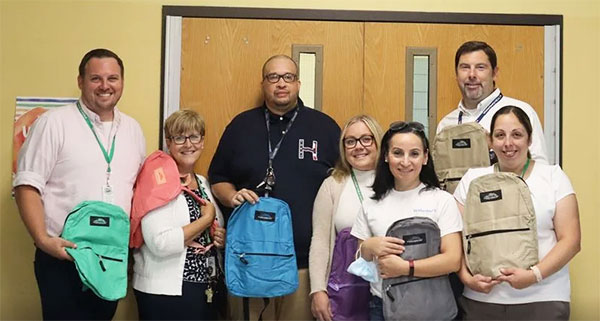 Hoop to Help co-founder Paul Gladding (middle), staff at Woodrow Wilson Elementary, and Waterbury HEALTH Network staff, including Communication and Marketing Director Lauresha Xhihani (right front with gray backpack) and Chief Nursing Officer Dave Schmidt (back right), and Family Resource Center Coordinator Brittany Thompson (far right). (Photo/Megan Julian, Republican-American)
Story excerpted from Republican American
Connecticut-based Waterbury Hospital staff partnered with Hoop to Help to provide book bags to local elementary students.
Students at Jonathan Reed Elementary School returned to class this year smiling from ear-to-ear with their bright and shiny new backpacks.
They received new backpacks as a donation from Paul Gladding, a co-founder of the Hoop to Help organization. Back in July, with help from the Community Tabernacle Outreach Center, Gladding hosted the 7th annual Hoop to Help indoor/outdoor basketball tournament at the Police Activities League and Jonathan Reed Elementary School. All the proceeds from the teams competing went toward purchasing backpacks for children around the city.
From the proceeds, 792 backpacks were purchased for children of Waterbury schools. Gladding had some help from staff members at Waterbury Hospital, which is the event's biggest sponsor, who came out to deliver some book bags.
Waterbury Hospital Communication and Marketing Director Lauresha Xhihani and Chief Nursing Officer David Schmidt helped Gladding distribute the rest of the backpacks.