Engineers Optimize Healthcare at Norwalk Community Hospital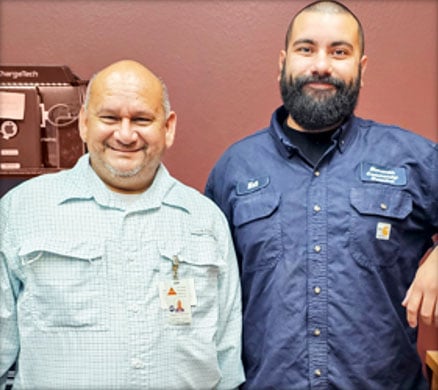 (left to right) Norwalk Community Hospital Engineers Sergio Mendieta and Matthew Duenas
In hospital environments, engineers are behind the scenes and don't often get recognized for their contribution to patient care the way doctors and nurses might. Which is why Norwalk Community Hospital celebrates National Health Care Facilities and Engineering Week (October 22-28).
Engineers play a critical role in optimizing hospitals to keep them functioning and running so doctors and nurses can take direct care of patients.
Hospital maintenance engineers and facility managers are responsible maintaining extensive heating, air-conditioning, refrigeration, and ventilation systems. They operate, repair, and check the safety of equipment, including backup generators, boilers, air-conditioning diesel engines, turbines, pumps, condensers, and compressors to ensure these systems are operating not just correctly, but also efficiently and safely.
Routine maintenance and checking air quality of the ventilation systems is also important to keep the hospital safe from contaminants. Other responsibilities include welding, plumbing, and electrical repairs, carpentry repairs to walls, roofs, windows, or ceilings.
Because the hospital never closes, there must always be maintenance workers on staff, just as there are constant health care providers.
"We are so appreciative of our engineers and maintenance staff," said Norwalk Community Hospital Administrator Shana Crittenden. "We couldn't do it without them."