Foothill Regional and Tustin Unified School District Hold Ceremony for Graduating High School Students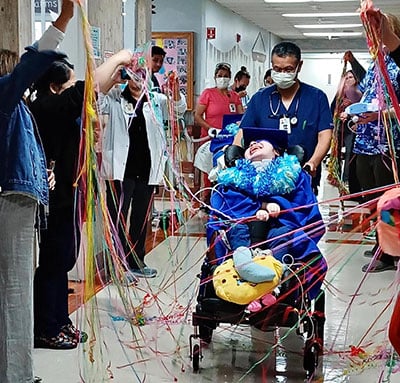 Foothill Regional Medical Center and the Tustin Unified School District (TUSD) held a special graduation recently for its five graduating class seniors in Foothill Regional's pediatric subacute unit.
The 42-bed subacute unit cares for medically fragile children with severe neurological problems that they were either born with or that resulted from traumatic injury or illness. Every patient in the unit requires a tracheostomy to breathe and a feeding tube for nutrition.
"We are honored to have this graduation for these special students," said Recreational Therapist Julianne Schlegel. "It means so much to the families to see their child graduate and celebrate this milestone."
The graduates had a ceremony complete with cap and gown, certificate of achievement, leis, celebratory decorations, and a teddy bear gift.
Two teachers from Tustin Unified School District's special education department came to the hospital unit each weekday morning and evening, with the programs tailored to the students' specific needs.
"TUSD teachers are proud to bring the specialized academic instruction of the classroom into the hospital setting for the exceptional students who are at the Hospital," said Sara Giorgi Smith, specialized academic instructor, TUSD. "The teachers and hospital staff collaborate to help the students experience all the wonderful milestones and celebrations that are so important to every family. We are so honored to serve this community."
Tustin Unified School District staff along with Foothill Regional pediatric subacute unit staff and graduates.