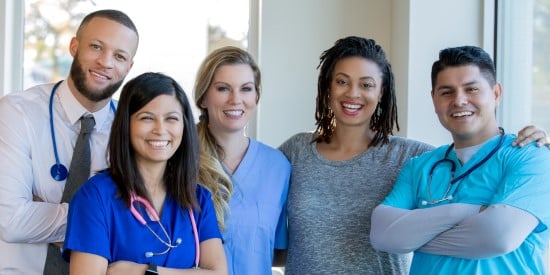 Why Choose Us: Career Opportunities on the West and East Coasts
At Prospect Medical Holdings, we pride ourselves on providing patient- and family-centered care that is seamless and integrated. We give patients the care they need, exactly when and where they need it. We are looking for employees who value this philosophy and bring the same approach to their jobs.
Our hospitals, primary care and specialty physician offices, home health care, rehabilitation services, behavioral health, and other facilities and services provide care in communities in California, Connecticut, Pennsylvania, Rhode Island and Texas. Whatever location you choose, we are certain you will find a rewarding career with Prospect Medical Holdings.
Our facilities have won many awards over the years for excellence in patient safety, healthcare quality, patient satisfaction, and community outreach. We have also received Joint Commission accreditation and certification for our programs and services, as well as 4- and 5-star ratings for quality of care from the Centers for Medicaid and Medicare Services (CMS).
We offer competitive pay, comprehensive benefits, and opportunities for growth. Prospect Medical Holdings has hospitals and physician practices in five states and promotes extensively from within. With so many locations, you often can move and stay within the company.
Read more about our core values and high reliability organization journey.
One Mission. One Team. One You.
Career opportunities currently in high demand include registered nurses, nurse anesthetists, physician assistants, nurse practitioners, radiation therapists, occupational therapists, and radiologic technologists.
If you are a compassionate, qualified individual looking to deliver or support the delivery of exceptional patient care, we encourage to apply for a position with us!
Connecticut – ECHN
Connecticut – Waterbury HEALTH
Pennsylvania – Crozer Health
Prospect Medical Systems Positions
Rhode Island – CharterCARE
Southern California – Los Angeles Community Hospitals, Southern California Hospitals and Foothill Regional Medical Center
Diversity and Inclusion Within Our Workforce
At Prospect Medical Holdings, we believe that a diverse and inclusive environment enriches our workforce and the communities we serve. To that end, we embrace the diversity of our coworkers, physicians, vendors and patients.
We do not tolerate harassment or discrimination on the basis of race, ethnicity, religion, gender, sexual orientation, gender identity or expression, national origin, age, disability, veteran status or any other characteristics protected by law. We embrace diversity because it is our culture, and it is the right thing to do. We are also committed to providing reasonable accommodations to employees who have qualified physical or mental disabilities.
Read more about our Code of Conduct.